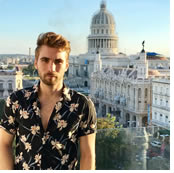 Our 10-day 'Support for the Cuban People' Cuba gay tour is legal for Americans and is all about spectacular scenery, with lots of colourful history thrown in. Even better, the island's friendly locals make it a fantastic place for LGBT travellers to discover. Wander through Havana's glittering colonial architecture, breathe in the immaculate air of Vinales. Throw in a few vintage cars, some fragrant cigars, a splash of salsa, and it all adds up to a sunny escape that's muy caliente. Our ever-popular gay Cuba tour is legal for Americans!
If you're looking to avoid the usual holiday hustle, consider our Cuba New Year Fiesta Gay Tour.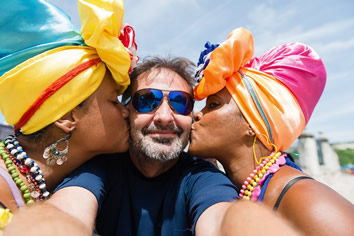 • Explore the charm of Old Havana
• Enjoy Cuba's gay nightlife in Havana
• Get a sense of the struggles of LGBT people in Cuba by meeting with local activists
• Learn to salsa in Trinidad
• Dine under the stars in an Viñales at a stunning organic farm
• Be a guest at local homestays, a distinctly Cuban experience
• Learn about Afro-Cuban Folklore in Trinidad
• Visit the Che Guevara Mausoleum and Museum
• Learn to cook up a fantastic meal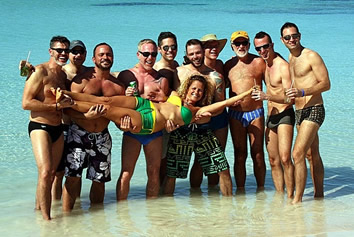 Day 1 - Old Havana, Cuba
Hola! Welcome to Havana. The adventure begins around 6PM with a group meeting.
After getting familiar with your fellow travellers—and fabulous guide—we'll venture out for an included Welcome Dinner with a few included welcome cocktails, followed by optional drinks at one of Havana's gay bars.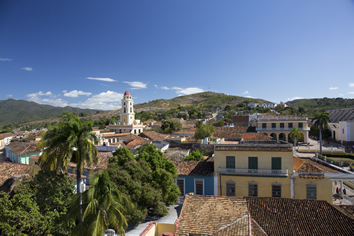 Day 2 - From Havana to Trinidad
After breakfast and a trip discussion, we'll hit the road for a rambling ride (approximately 7 hours) to the Spanish Colonial settlement of Trinidad.
En route, we'll stop in Santa Clara and visit the Che Guevara Mausoleum & Museum for an interesting perspective on his life.
Once in Trinidad, we'll check in to our homestays, then grab an included dinner.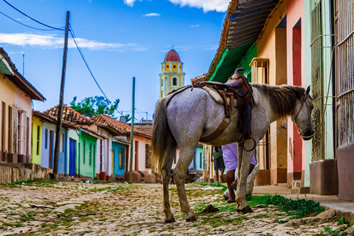 Day 3 - Trinidad
The beautiful colonial city of Trinidad is home to numerous churches and many beautiful colonial buildings.
We begin with a cultural tour of Trinidad where we will visit various museums including the Afro Cuban temple to Yemaya.
In the afternoon we'll head to a private dance company's very "local" headquarters to learn about the cultural and social importance that dancing has to Cuba. We'll be welcomed into the venue where they train before taking on a Cuban salsa class (no experience necessary).
Another fabulous dinner is included this evening.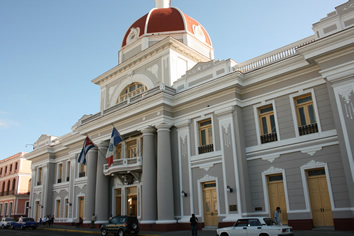 Day 4 - Cienfuegos
Today we move on to Cienfuegos on the Caribbean coast.
Founded by the French, then heavily developed by Americans, "the Pearl of the South" will impress you with its elegance, architecture and style.
After we explore the city, we'll visit a local art cooperative to chat with artists before savouring sunset from the stunning Palacio del Valle.
We'll round off our day with another local dinner.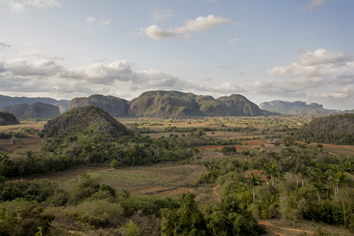 Day 5 - Viñales via Bay of Pigs
This morning we hit the road for another long drive to Viñales (approximately 8 hours).
This includes a stop at the Bay of Pigs, where CIA-sponsored Brigade 2506 failed to overthrow Fidel Castro's government in 1961. We'll have a quick visit to the museum, which provides a uniquely-Cuban perspective on the events of 1961.
Once in Viñales, we'll learn to cook Cuban-style with a cooking lesson from a local chef. Fun to cook, but even better to eat!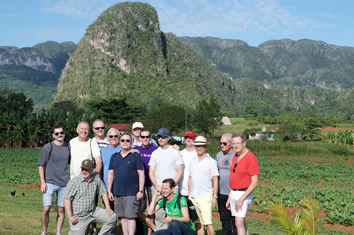 Day 6 - Viñales
Today we spend the morning learning the tradition of Cuban cigars from a farmer and expert cigar maker. Get an insight as to how the communist system works, how much tobacco they will keep, how much produce they give back to the government, and how they make ends meet! You will learn about the process from tobacco planting to rolling the final cigar.
Then, we'll enjoy dinner in the countryside at a stunningly beautiful organic farm, followed by drinks at a nearby outdoor bar.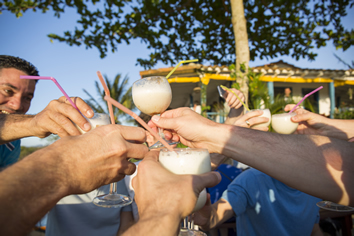 Day 7 - Jaimanitas / Havana
After checking out of our homestays, it's back to Havana, with a stop in Jaimanitas. This town was made famous by artist Jose Fuster. His home—Fusterlandia—is definitely a highlight, a living art project entirely covered in eclectic mosaics.
Tonight, we'll have an included dinner and drinks.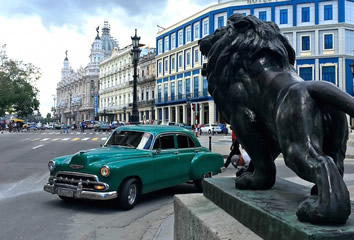 Day 8 - Havana
Today we'll enjoy a walking tour of Old Havana, where you'll learn about the most significant buildings (many of which have been restored to their original glory).
We'll stop at a new art/clothing store run by a local artist, and have an optional lunch.
In the afternoon we'll enjoy a guided tour of Hemingway House and learn about the novelist's life, including his trans daughter.
Then, you'll have free time to explore the city before we meet for an included dinner this evening, followed by drinks at a local gay bar, with drinks included.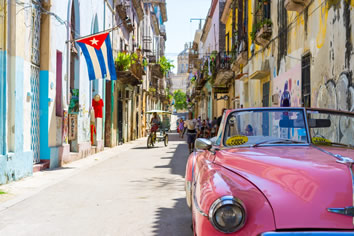 Day 9 - Havana
This morning we'll enjoy an Afro Cuban tour in the city, followed by a walk through the famous graffiti-ridden Hamel Alley with a specialist that will explain the art.
We'll then head to a local gay-run community theatre where we'll chat with the Director, along with local LGBT activists about Cuba from their perspective.
For our final evening, we'll enjoy an included feast at one of the best restaurants in town, and head out for optional drinks.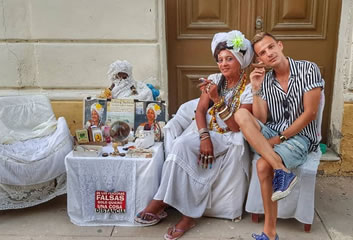 Day 10 - Havana Departure
There are no activities planned today, so you are free to depart at your leisure.
Your local guide will help arrange your included departure transfer to the airport. Safe journey!