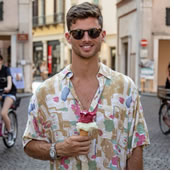 Discover Bel Paesa—the Beatiful Country—on our all-gay Italian escapade. From Milan to Rome, this 10-day culinary crusade will immerse you in Northern Italy's art, history, food and wine. Alongside a group of like-minded gay men you'll wallow in the luxury of Lake Como, learn to make perfect risotto in Piedmont, uncork the viticulture of Barolo and follow a truffle farmer into the Monferrato woods. You'll visit bucket list sites like the Colosseum, Milan's Duomo and Vatican City. Best of all will be the sense of rapture as you gaze upon some of the world's greatest masterpieces including Michaelangelo's 'David' and Da Vinci's 'The Last Supper'. Prego! Er… You're welcome!
Looking to extend your Italian adventure? Join our Greece Aegean Sea Boutique Gay Cruise. The adventure kicks off just as this tour concludes and the two tours can be easily paired together.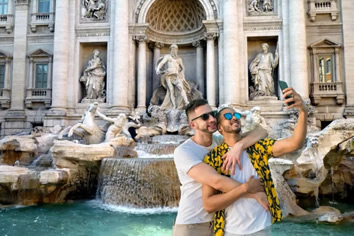 • Stroll the cobblestone streets of Milan, Florence and Rome on private walking tours
• Relive the glory (and gory!) days of gladiators inside Rome's Colosseum
• See some of the world's greatest masterpieces first hand, and learn about the artists' during private tours
• Enjoy some good ol' Catholic guilt while touring the smallest country on earth: Vatican City
• Discover the natural beauty of Lake Como, including a guided tour of the gardens of Villa Carlotta with an Italian botanist
• Follow a truffle farmer into the woods of Monferrato and sniff out the region's rare white truffles
• Learn to make the perfect plate of risotto in Piedmont during a private cooking class
• Sip and swirl famous Italian wines such as the bodacious Barolo
• Taste Italy's rich culinary heritage, including pasta, pizza, gelato and tiramisu
• Wake up each morning to the world's best espresso and/or cappuccino
• Swing by Rome's "Gay Street", aka Via di San Giovanni
• Photograph the beautiful baroque architecture of Turin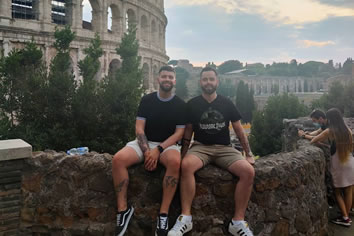 Day 1 - Arrive Milan, Italy
Ciao! Welcome to Italy! Today our adventure begins with a short Welcome Meeting before we enjoy an extraordinary walking tour of the fashion capital of the world. Highlights will include Scala Theater and Cathedral Square. From the square we'll gaze upon one of the most famous churches in the world, Duomo di Milan, before taking the lift to it's towering roof for a bird's-eye view of the city.
Afterwards we continue to Galleria Vittorio Emanuele II, one of the world's oldest shopping malls. Together we'll stroll the mall's roof for panoramic views, including a gorgeous vantage of the neighbouring Duomo's spires.
This evening we will get our first real taste of Italy's world-famous cuisine during our official Welcome Dinner.
Hotel: Napoleon Hotel, Milan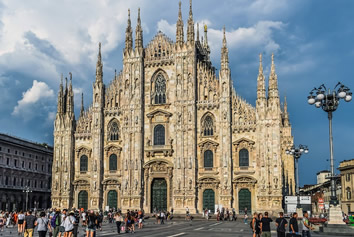 Day 2 - Milan & Lake Como
Buongiorno! After a simple Italian breakfast, you have a leisurely morning to explore Milan at your own pace. Perhaps a visit to Leonardo Da Vinci's masterpiece 'The Last Supper' is in order? If so, be sure to book tickets well in advance. Alternatively, head to the park of Castello Sforzesco—a 14th century castle with a stunning, green courtyard.
Later in the afternoon we'll meet at the hotel and drive to the evocative Lake Como via private transfer (approximately 2 hours). Upon arrival in Como we'll mosey up to our homebase in the small town of Bellagio. Tonight we'll break bread together at a charming local restaurant.
Hotel: Belvedere Bellagio Hotel
, Lake Como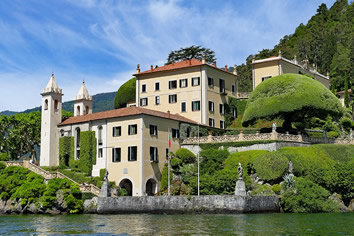 Day 3 - Lake Como
This morning we'll ferry across the shimmering waters of Lake Como to Villa Carlotta, wallowing in the region's posh lakefront properties. Here we'll enjoy guided tours of the art and gardens with an art historian and botanist respectively.
Then we'll continue along Lake Como enjoying its natural beauty before an optional Italian lunch. The remainder of the afternoon will be at leisure, but with the help of your included ferry pass it is easy to get around. Take the opportunity to discover Varenna, Cadenabbia, or the beautiful Villa Balbianello, which film fans may recognise from franchises such as James Bond and Star Wars.
Hotel: Belvedere Bellagio Hotel
, Lake Como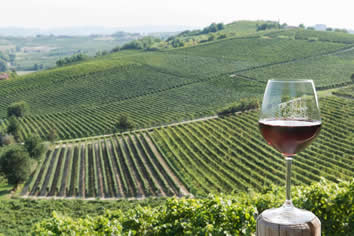 Day 4 - Monferrato
This morning we'll navigate the North Italian countryside en route to a farming estate in the province of Vercelli. Founded in 1123 by Cistercian Monks, Vercelli was the first Italian region to grow rice.
Upon arrival we'll learn to prepare our own risotto—one of Italy's many famous dishes. Obviously, we'll enjoy the fruits of our labour paired with a glass of regional wine.
After we're well fed, we'll venture over to our gorgeous boutique accommodation, a restored farmhouse surrounded on all sides by vineyards, rolling hills and striking country vantages. We'll have a wee bit of downtime before a particularly romantic candlelit dinner in the historic part of the farmhouse. Buon appetito!
Hotel: Agriturismo Albarossa Farmhouse
, Monferrato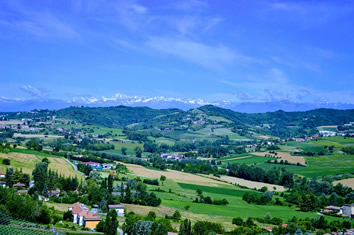 Day 5 - Monferrato
Perhaps a light and stretchy pair of pants would be best today as another indulgent adventure awaits. After a leisurely countryside breakfast we'll uncork the region's viticulture at Marchesi di Barolo. The estate's famously elegant, tannic and rich vintages will have you proclaiming Barol-WOW!
We'll enjoy some light sightseeing before heading back to our farmhouse to suit up for an afternoon of… wait for it… truffle hunting! Along with an Italian farmer, we'll venture into Monferrato woods in search of allusive white truffles. Whether or not we find the fungal gold, we'll enjoy a regional dinner at the farmer's house, paired with Monferrato wines and real white truffle. We told you to wear stretchy pants.
Hotel: Agriturismo Albarossa Farmhouse
, Monferrato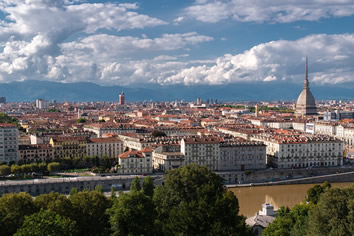 Day 6 - Turin & Florence
Sadly, it's time to bid arrivederci to Monferrato as we're off to Turin. After storing our luggage, our Group Leader will take us on a short orientation walk of the city to get us familiar with our surroundings.
Then we'll enjoy free time for lunch and to explore this lesser-known city. Perhaps visit Turin's medieval Cathedral, home to the fabled Turin Shroud. Alternatively, walk through Piazza San Carlo—once dubbed "Europe's sitting room," this piazza may be one of the prettiest in the region. Finally, you may also want to consider visiting the fine baroque architecture of Piazza Carignano, including the palazzo where King Vittorio Emanuele II was born.
In the late afternoon we'll reconvene and board a fast train bound for fabulous Florence, the Renaissance capital of Italy. Tonight you'll have free time before an included dinner where you'll get your first taste of Florence's world-renowned wine and cheese.
Hotel: Rivoli Boutique Hotel
, Florence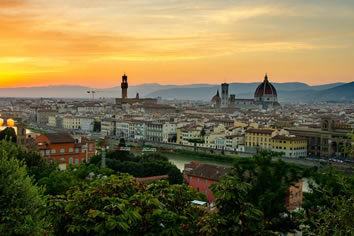 Day 7 - Florence
Today we'll travel back in time to the sensual Renaissance and Italy's little-known queer past. Together we'll stroll the city's cobblestone streets learning about the Medici Family and gay life during the Renaissance, when Florence was the active center for gay relationships.
We'll visit the Accademia Gallery to see some of the world's greatest masterpieces including Michaelangelo's titillating and glorious David. We'll take our time here, indulging our senses in Michaelangelo's artisanship while our guide regales us with stories of the artist's personal and sentimental side. We'll also learn more about Michaelangelo, including scandalous details on his homosexual lifestyle and his true relationship with Roman popes in the 1500s. Expect dark intrigue and corruption aplenty!
Flushed and flustered we'll step out into the open-air museum at Signoria Square and end our walking tour at the splendid Ponte Vecchio, known as the "Old Bridge" and an everlasting symbol of Florence. You'll have plenty of free time for lunch and dinner before gathering for a final magnificent stroll at dusk through Piazzale Michaelangelo. Snacks and wine await.
Hotel: Rivoli Boutique Hotel
, Florence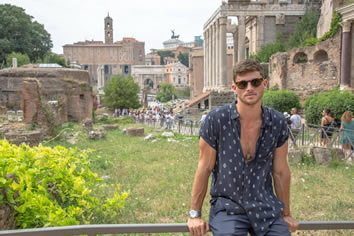 Day 8 - Rome
Rise and shine, Gentlemen, as the Eternal City awaits! After a quick breakfast at our hotel we'll board a high-speed train bounding for Rome proper. Upon arrival we'll drop our luggage at our accommodation before venturing over to the Colosseum to relive the days of gladiators and spectacles.
Later in the day we'll enjoy a walking tour around some of the city's most exciting neighborhoods. Specifically, the historic Jewish Quarter and Trastevere. Our guide will treat us to sips and nibbles along the way, including both centuries old cuisine and some of today's hottest food trends. In a buzzing square we'll wash the food tour down with Italian craft beer, wine or the regional drink of choice, an Aperol Spritz. Saluti!
After another indulgent afternoon, the evening is yours to get lost a la beguiling Audrey Hepburn in 'Roman Holiday'. Or perhaps scooter over to Via di San Giovanni, the city's well-situated gay street located underneath the Colloseum.
Hotel: Golden Tulip Rome Piram Hotel, Rome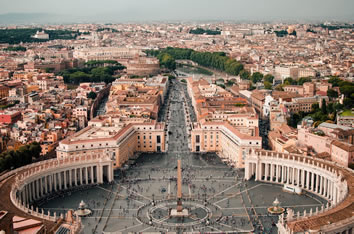 Day 9 - Rome & Vatican City
Today we head to the smallest country on earth: Vatican City. Our tour starts with the Vatican Museums. At first sight, you will be caught by the modern entrance built for the Jubilee in 2000, but then—inside the museums—the Sistine Chapel will amaze and enthrall. The famed ceiling was painted by Michelangelo between 1508 and 1512. The artist was originally enlisted to paint the twelve apostles, however Michelangelo demanded a free hand in the pictorial content of the scheme. He painted a series of nine pictures that have become some of the most recognizable paintings in the world.
After an afternoon at leisure, we'll wrap up our spectacular journey during a fab Farewell Dinner. If the group is up for it we can also head to a gay bar for one last Aperol Spritz.
Hotel: Golden Tulip Rome Piram Hotel, Rome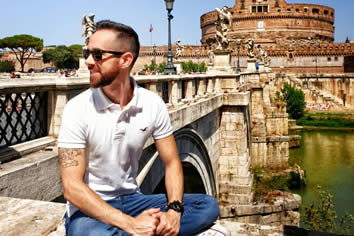 Day 10 - Rome Departure
Alas! It is our final day and there are no activities planned. If you have time, be sure to swing by Rome's other famous sites including the Column of Marcus Aurelius, the Pantheon, Trevi Fountain and of course the Spanish Steps.
Safe travels and grazie mille for joining our big gay Italy tour.
As this tour ends, our Italy & Malta: Strait of Sicily Gay Cruise begins. The two trips can be easily booked together.