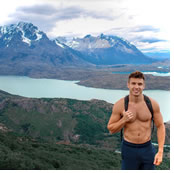 Traverse some of Patagonia's most famous trails with a group of like-minded gay hikers. On this all-gay hiking expedition we'll tackle one of the world's most famously rugged destinations, Patagonia. So famously rugged, the world's largest outdoor clothing company is named after it. Our adventure begins on the Argentinian half of Patagonia in both El Calafate and El Chalten. It's here we'll discover the local wilderness by foot, witness the region's most imposing glaciers, and of course mix and mingle with other flannel-wearing, axe-totting outdoorsmen with their thick beards and brawny bod's and musky sce… *trails off incoherently*. Sorry, where were we? Ah yes! We'll then transfer over the Chilean border into Torres del Paine National Park to discover Patagonia as it once was. We'll bid adieu to our luggage and begin hiking from campsite to campsite along the same trails used by guanacos and prowling pumas. The challenging journey concludes on the shores of Grey Lake where you can either fly home or further explore the country on our Chile: Hiking, Biking, Wining & Dining gay tour.
It's worth mentioning, this tour can also be easily paired with our relaxed Argentina: Buenos Aires to Mendoza gay tour which wraps just before this tour begins.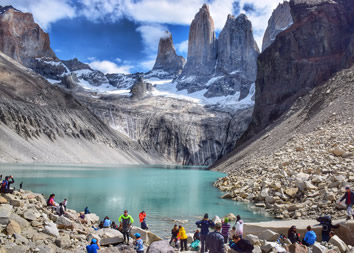 • Trek one of the world's most rugged landscapes alongside a group of ambitious gay hikers
• Photograph Perito Moreno Glacier, one of only three Argentinian glaciers that isn't shrinking
• Snoop around El Chalten and El Calafate, two South American towns famous among outdoor enthusiasts
• Visit Torres Del Paine National Park and hike to its namesake "towers"
• Spot local wildlife like soaring condors and grazing guanacos. Although unlikely to spot, pumas call this area home as well
• Safely challenge yourself on more industrious trails such as the French Valley trail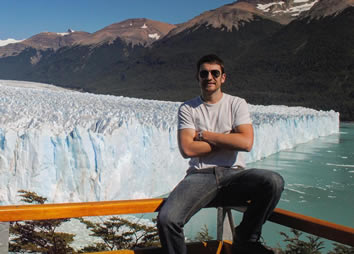 Day 1 - Arrive El Calafate, Argentina
Hola! Welcome to El Calafate, a small town on the southern shore of Lago Argentino in Patagonia.
Our Patagonia gay hiking adventure begins with a Welcome Meeting at 6pm followed by our official Welcome Dinner at a special local restaurant.
Hotel: Kosten Aike Hotel
, El Calafate, Argentina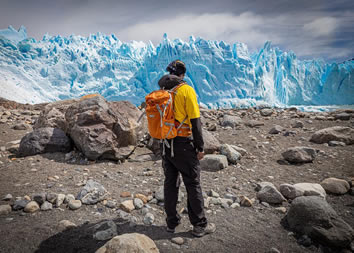 Day 2 - El Calafate / El Chalten
Rise and shine, Gentlemen. In order to beat the crowds to Perito Moreno Glacier, we'll need to grab an early breakfast and checkout of our hotel by 7am.
Perito Moreno Glacier is a major highlight of southern Argentina and is one of only three glaciers in the country that is not receding. Make sure you have your camera handy, as the surrounding mountainscape is also pretty special.
After ample photo opps along the visitor boardwalks, we'll enjoy a short boat ride to get an even closer look at the 60m/200ft tall and 5km/3.1mi wide sheet of ice.
Around 1:30pm we'll board a private transfer towards the frontier town of El Chalten, enjoying a light boxed lunch en route.
El Chalten is a laid-back town famous among hikers, climbers and the general outdoorsy type. It will be our base for the next few days so you're welcome to unpack.
Tonight you're free to explore on your own or join the group for an optional dinner.
Hotel: Destino Sur Hotel
, El Chalten, Argentina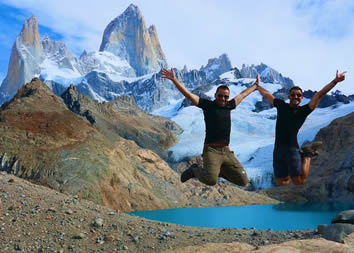 Day 3 - El Chalten - Laguna de Los Tres circuit
Be sure to properly fuel up during breakfast as today marks our first big hike: the Laguna de Los Tres circuit.
This 24km/15mi round-trip will guide us to a crystal clear lagoon at the foot of Mount Chalten. We'll be surrounded by snow-capped mountains and striking granite peaks seemingly ripped from the pages of National Geographic.
The trail has some steep sections but the terrain itself is fairly easy. Wind and rain may be the main challenges we face today.
Back in El Chalten an optional group meal is available but feel free to explore the many local pubs and restaurants on your own.
Ascent: 700m/2,296ft
Descent: 700m/2,296ft
Distance: 24km/15mi
Approximate hiking time: 8–9 hours
Hotel: Destino Sur Hotel
, El Chalten, Argentina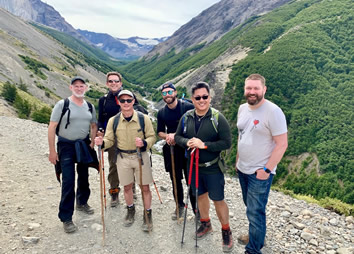 Day 4 - El Chalten - The Condor and Eagle viewpoints
Today we'll enjoy a leisurely breakfast before tackling two lighter treks: The Condor and Eagle viewpoints respectively.
The trail up to the Condor viewpoint is short and steep but the sweeping views over El Chalten and surrounding mountains will be well worth the sweat. If the weather is favourable, we may even see the top of mount Fitz Roy.
Back on our private transfer we'll head to the Eagle viewpoint trail. This short trail will only take approximately half an hour with little altitude gain. At the viewpoint you'll have a similar view of the mountains and the Viedna Lake, but this time without El Chalten in the foreground. Don't forget to look skyward in search of flying condor.
Once back in the town, we'll tuck into a traditional Argentine lunch before a free afternoon.
Ascent: minimal
Descent: minimal
Distance: 6km/3.7miles
Approximate hiking time: 2–3 hours
Hotel: Destino Sur Hotel
, El Chalten, Argentina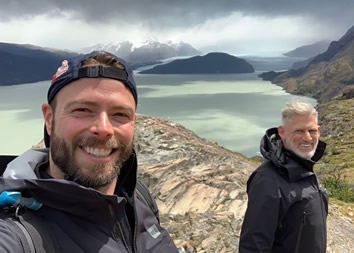 Day 5 - El Chalten / El Calafate
Bid adieu to beautiful El Chalten as we transfer back to El Calafate this morning.
En route we'll have a few photo stops and the chance to appreciate Patagonia's rugged beauty.
Then free time awaits us back in town before a very special, included dinner.
IMPORTANT PACKING NOTE: Tomorrow we'll begin the camping portion of our tour. You must prepare a smaller pack with enough clothing and layers for 3 full days of hiking along with any daily essentials and personal items you require. You will be required to carry this pack from campsite to campsite—there are no porters on this tour. The rest of our luggage will be transferred to Hotel Lago Grey and will not be accessible until Day 8.
Hotel: Kosten Aike Hotel
, El Calafate, Argentina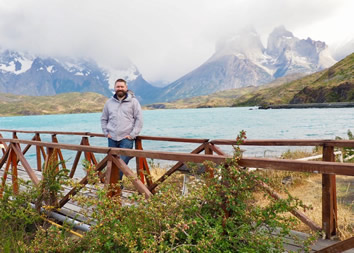 Day 6 - Torres Del Paine National Park
Another early day awaits us as we snake our way towards Torres del Paine, crossing the Chilean border.
Arm yourself with a good book or podcast because today's journey will take approximately 4.5 hours, not including time spent at the border to fill out paperwork.
Upon arrival at our well-situated campsite, we'll have just enough time to drop our bags before we stretch out our cramped legs on the beautiful hike towards the park's namesake granite "towers".
When we arrive at the towers we'll have some time to soak up the view and the turquoise lagoon before heading to camp for dinner.
Ascent: 740m/2427ft
Descent: 380m/1245ft
Distance: 15.5km/9.6mi
Approximate hiking time: 6.5 hours
Accommodation: El Chileno Refugio & Camping, Torres del Paine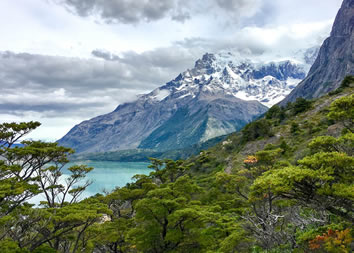 Day 7 - Torres Del Paine National Park
This morning we'll rise early to get the most out of our day. We'll begin with a quick transfer to Pudeto Lake and take a catamaran across to the start of the French Valley trail.
This scenic hike is well known for its sweeping views of snow- and glacier-capped mountains. The trek itself will be challenging and long with quite an impressive incline.
Once we descend from the hike we'll arrive at our basic but cozy accommodation, Refugio Paine Grande. At this lodge we'll be staying in bunk beds with 4 to a room and shared facilities. Unfortunately, there are no single supplements available this evening.
Ascent: 516m/1692ft
Descent: 875m/2874ft
Distance: 22.3km/14mi
Approximate hiking time: 9 hours
Accommodation: Refugio Vértice Paine Grande Lodge
, Torres Del Paine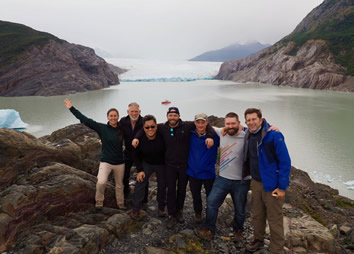 Day 8 - Torres Del Paine National Park
Good news, Gentlemen: after yesterday's tenacious trek, today will feel like a breeze by comparison.
In total we'll be hiking for only 4-ish hours with very little incline/decline. We'll begin with a proper breakfast before setting off towards Glacier Grey. At 30m/100ft high and 6km/3.7mi wide it is one of the most spectacular glaciers in South America's Wild West.
Our hike concludes on the shores of Grey Lake where we'll ferry to our final accommodation, Hotel Lago Grey.
We'll have some time to rest our weary feet, shower and unpack/repack before a rewarding Chilean dinner.
Ascent: 204m/672ft
Descent: 185m/607ft
Distance: 11km/6.8mi
Approximate hiking time: 4 hours
Hotel: Lago Grey Hotel
, Torres Del Paine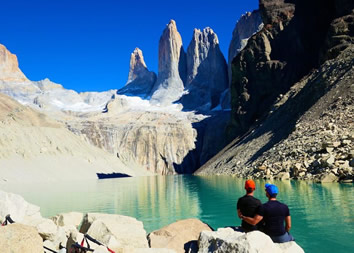 Day 9 - Torres Del Paine National Park
A much deserved rest has been built in today. Feel free to take breakfast and lunch at your leisure.
Optional activities include simply lounging around the hotel, multiple nearby self-guided hikes, and, if the temperamental weather permits, a scenic kayak across the lake or on the nearby river.
Tonight we'll reminisce over our big Patagonia Gay Hiking adventure during our official Farewell Dinner.
Hotel: Lago Grey Hotel
, Torres Del Paine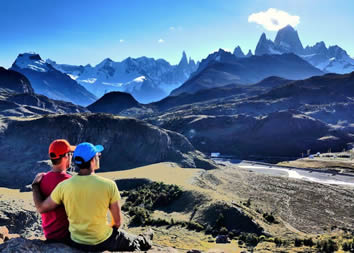 Day 10 - Torres Del Paine Departure
Today is the final day of the tour.
Upon request we can arrange a transfer out of the park to our designated post-tour hotel in Punta Arenas or the Punta Arenas airport.
Thank you for joining our industrious Patagonia gay tour!
Interested in further exploring the thinnest country in the world? Our Chile: Hiking, Biking, Wining & Dining gay tour kicks off just as this tour concludes.