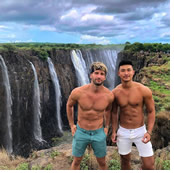 Authentic safaris, cosmopolitan Cape Town and glorious Victoria Falls await. Immerse yourself in the wilderness, wildlife, and high life of The Rainbow Nation on our luxurious 11-day gay South Africa tour. The adventure and safari actually spans four African nations including South Africa, Zimbabwe, Zambia and Botswana! The journey begins with the awe-inspiring grandeur of Victoria Falls, which you'll explore by water, land, and helicopter. Next, we'll scope out The Big Five on safari at the exclusive Sabi Sands Game Reserve. Then we'll wrap things up in Cape Town, where a mansion will be our home base for wine tastings, city tours, and a visit to the Cape of Good Hope.
Visit South Africa and enjoy beautiful landscapes, great wines, the thrill of a safari and a welcoming culture. Cape Town is renowned as the best place in Africa for gay culture.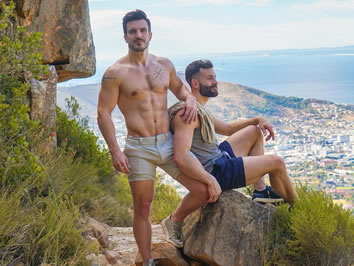 • Experience Botswana on a game drive and river cruise in Chobe National Park
• Tour both the Zambian and Zimbabwean sides of Victoria Falls – the largest waterfall in the world
• Whiz over Victoria Falls, and through the gorge, on an electrifying helicopter ride
• Take a dip in Devil's Pool, the world's ultimate infinity pool
• Spot the "Big Five" during twice-daily game drives in the exclusive & private Sabi Sands Game Reserve
• Discover Cape Town & Table Mountain
• Witness the mingling of two oceans at the Cape of Good Hope
• Indulge in an expert-guided wine and vineyard tour in the Stellenbosch region
• Relax by the pool at three over the top luxurious lodges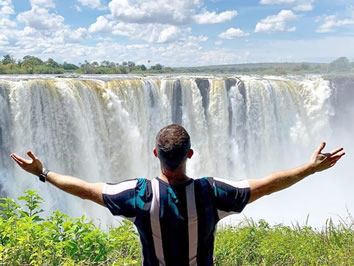 Day 1 - Victoria Falls, Zimbabwe
Hallo! Welcome to Zimbabwe. And thank you for joining our gay South Africa tour.
Our trip kicks off at 5:30PM with a group meeting, sunset cocktails, and a Welcome Dinner at our exclusive and luxurious lodge.
The rest of the evening is yours to relax and acquaint yourself with your fellow travellers.
Hotel: Palm River Hotel, Victoria Falls, Zimbabwe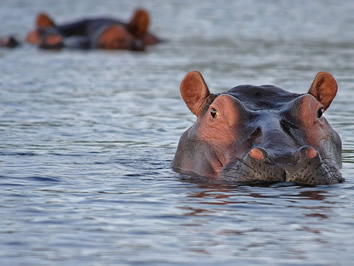 Day 2 - Chobe National Park, Botswana
As our first full day together, we're off Botswana where, after clearing immigration, we'll cruise the Chobe River in search of hippos, crocodiles and elephants.
We'll break for lunch, then continue to explore by safari vehicle. We may be lucky to spot lions, leopards and maybe even wild dogs before transferring back to our lodge in Zimbabwe for an optional dinner.
Hotel: Palm River Hotel, Victoria Falls, Zimbabwe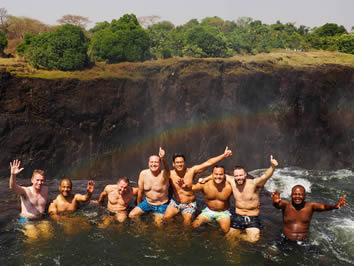 Day 3 - Victoria Falls, Zimbabwe
We'll start this action-packed day with a walking tour of the Zimbabwe side of the falls before walking across the Zambezi River where we'll enjoy an included lunch and a dip in Devil's Pool – the most adventurous infinity pool you'll ever visit.
From here we'll head to a launch pad for our exhilarating helicopter ride through the Batoka Gorge and on to Victoria Falls, known as the greatest falling curtain of water in the world.
Note: this is dry season, and while the flow of water may be low, the views without mist will be spectacular. Devil's Pool is normally only open from mid-August to late December. For our May departures we will provide an alternate excursion.
Hotel: Palm River Hotel, Victoria Falls, Zimbabwe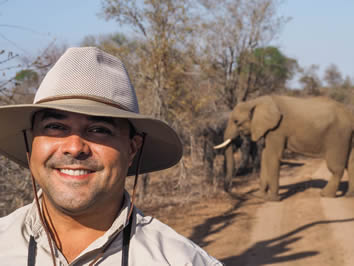 Day 4 - Victoria Falls, Zambia / Sabi Sands Private Game Reserve, South Africa
This morning we cross the Victoria Falls Bridge into Zambia where we'll check out their side of the falls before our flight from Livingstone Airport to the Greater Kruger National Park area.
Upon arrival, we'll drive to one of South Africa's finest natural sanctuaries: the Sabi Sands Game Reserve, and our all-inclusive luxury bush lodge.
Following an afternoon game drive, we'll feast on a delicious African meal, then get to know our hosts by the grand fireplace. In the background, through it all, we'll be immersed in the wild soundscape of the African bush.
Hotel: Inyati Game Lodge
, Sabi Sands Game Reserve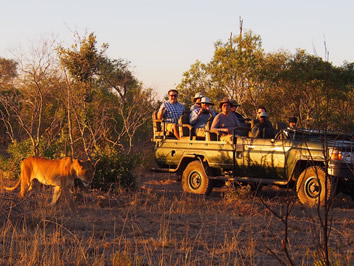 Days 5 & 6 - Sabi Sands Private Game Reserve
This morning we'll awake to hot coffee and tea before we venture out for a sunrise game drive seeking out the Big Five.
Back at the lodge, we'll then have a hearty breakfast, some free time before a late lunch, and another game drive in the mid-afternoon.
We'll return after dark to a lodge transformed by candles and lanterns. We'll enjoy cocktails and dinner on the terrace.
It's dreadfully charming, obnoxiously amazing, and the worst part is we must suffer through it all again tomorrow.
Hotel: Inyati Game Lodge
, Sabi Sands Game Reserve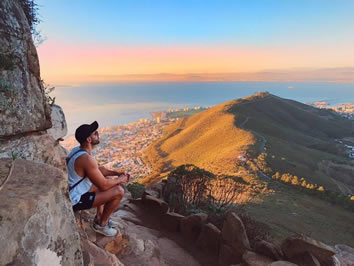 Day 7 - Sabi Sands to Cape Town
Rise and shine as we transfer to Kruger Mpumalanga Airport for a flight to Cape Town.
We'll then make our way to our lodge (or mansion, rather), that will serve as home base to explore the city and surrounds.
This evening, we'll enjoy an included South African barbecue, cocktail party and bonfire with friends from the local community, in the comfort of our hotel.
Please note: Today's flight is not included in the cost of the tour. Please see Important Information for a special note on purchasing domestic airfare.
Hotel: Camissa House Hotel
, Cape Town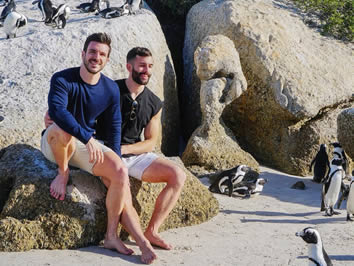 Day 8 - Cape of Good Hope
Today is devoted to a scenic drive around the Cape Peninsula.
We'll pass through the stunning Clifton and Camps Bay areas, along with Hout Bay. We'll visit the beautiful Cape Point Nature Reserve, Cape of Good Hope and Boulders Beach known for its penguins.
We should arrive back to Cape Town in time for high tea, Champagne and pastries. Tonight is a free night, so enjoy some rest and relaxation, or perhaps head out for dinner on your own.
Hotel: Camissa House Hotel
, Cape Town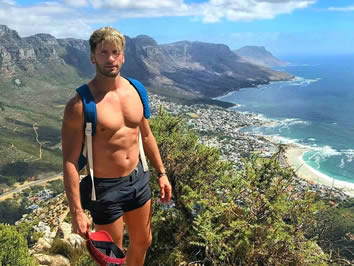 Day 9 - Cape Town & Table Mountain
This morning we'll explore Cape Town's landmark Table Mountain, Devil's Peak and Lion's Head.
We'll follow this up with a city tour including The Company's Garden, the Castle of Good Hope, Greenmarket Square, and Bo-Kaap. It may sound ambitious, but it's all very achievable, because by this point it will only be early afternoon.
We'll be dropped off at the V&A Waterfront known for it's oceanside restaurants and fabulous shopping. From this point, the afternoon and evening are yours to enjoy as you see fit (although an optional dinner will be on offer).
Hotel: Camissa House Hotel
, Cape Town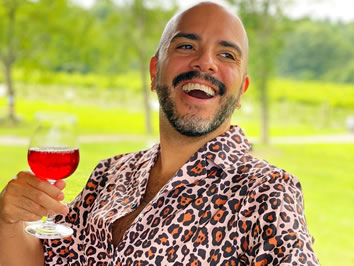 Day 10 - Stellenbosch Wine Tour
Get ready to laugh and sip your way through the finest vineyards in Stellenbosch.
We'll depart our hotel mid-day accompanied by an exuberant host who is a highly regarded South African wine judge and critic.
We'll enjoy two exclusive and backstage winery tours and tastings before our fabulous Farewell Dinner, complete with wine pairing.
Hotel: Camissa House Hotel
, Cape Town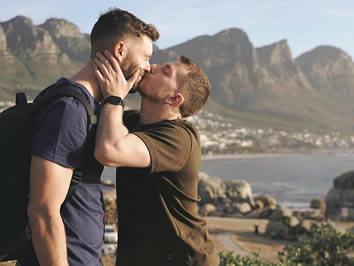 Day 11 - Cape Town / Departure
There are no activities planned today, so you are free to depart at your leisure.
Your local guide will help arrange your included departure transfer to the airport. Safe journey!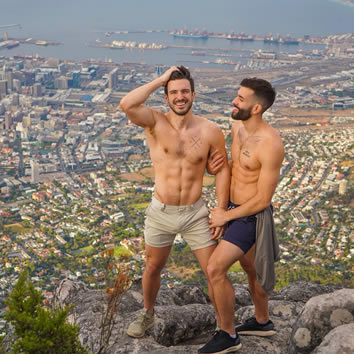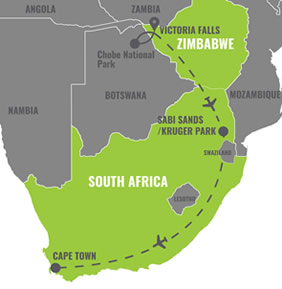 • Arrival & departure transfers to/from Joining/Finishing point hotels
• Group leader and/or Host from beginning to end of our gay South Africa tour
• 10 breakfasts, 4 High Teas, 2 lunches, 7 dinners
• 5-star lodges (7 nights)
• 4-star bush lodge with all meals and local alcohol (3 nights)
• Helicopter ride over Victoria Falls
• Victoria Falls walking tours in both Zimbabwe and Zambia
• Botswana game drive and river cruise in Chobe National Park
• Twice-daily game drives in Sabi Sands Game Reserve
• Local alcoholic beverages at Cape Town hotel
• Cape Town/Table Mountain sightseeing
• Cape Point/Cape of Good Hope full day tour
• Full day Stellenbosch winery tour
• All gratuities for city guides, safari guides, included meals and drivers
• A $50 USD Rainbow Railroad donation to help resettle LGBTQ+ refugees.
• International and Domestic Airfare (details will be provided when official trip guarantee is sent to group)
• Meals & Activities not mentioned
• Gratuities for lodge and hotel staff (approx $175)
• Travel insurance is mandatory for all travellers.
• All items of a personal nature (laundry, drinks, etc.)
• Visa fees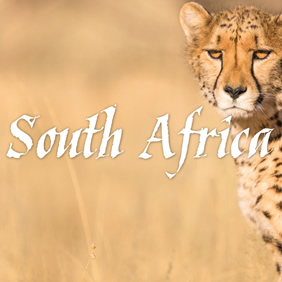 Visas
There is no visa requirement for American, Australian, British and Canadian travellers to South Africa and Botswana for less than 90 days.
However, all travellers will require a visa for Zimbabwe and Zambia which can be obtained upon entry. There may be an opportunity to purchase a UNI/KAZA VISA on arrival which will give you multiple entry access to Zambia, Zimbabwe and Botswana for the price of $50 USD. Visit to read more. This is the preferred choice, however there is a chance they will not be available on arrival, in which case you will need to purchase a multi-entry visa for Zimbabwe on arrival ($30-$45 USD), then a multi-entry visa when crossing to Zambia. Cash is required for all options, as credit card machines often lose signal.
Culture Shock
When travelling to Southern Africa, you'll see both good and bad. but Locals tend to be very friendly and welcoming. However, poverty is widespread. Most people speak English, and the food at restaurants and hotels is generally safe to eat. That said, tourists can be easy targets for petty crime, so be extremely cautious with personal belongings in public, and avoid wearing expensive jewelry.
Local LGBT Scene
While South Africa is quite progressive, the rest of Africa still generally condemns homosexuality. Homosexual sex is actually illegal in Zambia and Zimbabwe, so we recommend that you avoid public displays of affection in these countries, for the safety and security of not only yourself, but also your fellow travellers. On a bright note, Botswana just decriminalized same-sex relationships on June 11, 2019.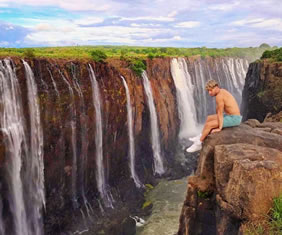 Electricity
You will need an international travel plug/adapter for type C/D/M/N sockets.
Connectivity
All of our hotels will have Wi-Fi access, so feel free to tweet, pin, post and share your experience with your friends and family at home. They might be a tad jealous!
Required Vaccinations
Based on entry requirements, there are no vaccinations needed for entry unless your home country, or a country you are travelling to before or after this tour, has restrictions in place. To determine if you should take preventative measures to reduce the risk of illness, consult with your doctor or a travel medical clinic. We cannot provide vaccination recommendations.
Malaria
Some of the areas we'll travel to on this trip have a moderate risk for Malaria. You should consult your physician at least two weeks prior to travel in order to consider the options available to you for prevention.
Yellow Fever
To prevent introduction of this disease into the country, South Africa requires a valid Yellow Fever Vaccination Certificate from all citizens and non-citizens over one year of age travelling from an infected area, or who have been in transit through infected areas.
Prescription Drugs
The Zambian Drug Enforcement Commission (DEC) has recently detained a number of tourists for possession of seemingly innocuous over-the-counter medications like Benadryl, which contain small quantities of diphenhydramine, an active ingredient that is on Zambia's list of controlled substances. A full list of prohibited medications will be provided in your pre-trip packet.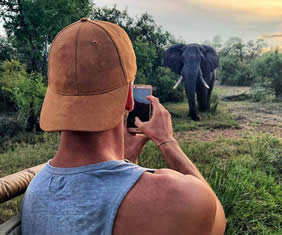 Weather
We will be travelling to the area during Spring, which is near the end of dry season. In Cape Town, you'll likely experience a mix of sun and cloud, with a chance of rain. Daytime temperatures hover around 20C/50F, while evenings can drop to 11C/52F. During the rest of your trip in Sabi Sands/Kruger Park and Victoria Falls, it should be fairly dry with sunny skies – although there is a chance of short rain storms. Daytime highs will be around 27C/80F, with evening temperatures around 15C/60F.
Travel Insurance
For everybody's peace of mind, medical travel insurance is required on all Out Adventures tours. At a minimum, your travel insurance must provide cover against personal accident, death, medical expenses, emergency repatriation and personal liability, with a minimum medical coverage of US $200,000.
Meals
To keep things flexible, not all meals are included in the trip price. Although we typically dine together so that everybody can get a taste of everything, feel free to explore on your own…your guide will always have some restaurant recommendations.
Money
The local currency is the South African Rand, however USD is widely accepted for tourism purposes. We recommend carrying local currency or small USD bills for small purchases, although credit cards are accepted at most upscale restaurants and hotels. We also recommend carrying approximately $400 USD to be used in case of an emergency, or if your credit/ATM cards are placed on hold.
Tipping
Gratuities for local guides, included meals and drivers are all included in your tour costs. However, all lodge gratuities are not included. We recommend budgeting approximately $200 USD.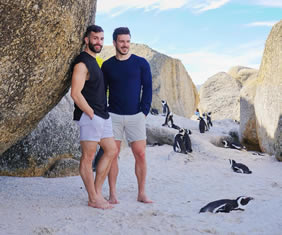 What to bring
Our adventures entail carrying your own luggage on occasion. And while you'll never schlep far, things can quickly get costlier than a celebrity breakup if you don't keep your baggage under 20kg/44lb thanks to costly surcharges on domestic flights. You should also bring something smaller for day trips to carry water, your camera, and any souvenirs you find along the way.
Optional Activities
Every Out Adventure offers optional excursions that are not included in price of this trip. Please see the daily itinerary in your final pre-trip packet to learn what's available.
How We Travel
Out Adventures is all about good times with likeminded guys. Whatever's on the itinerary – from fireside camping to five-star decadence – our goal is to make the experience magical. We're also committed to supporting the communities we visit by hiring local guides, staying at locally-owned accommodations when possible, and celebrating local cuisine. It all adds up to a great way to immerse yourself in the culture.
Your Guide
All Out Adventures are led by a gay (or gay-welcoming) guide. Whenever possible, we hire destination locals. And we can also connect you with the right people if you'd like to delve deeper into the local culture. If you're pleased with your guide, we recommend a tip of US $5-10 per person, per day…they'll certainly appreciate it!
Flying Solo
If you've never travelled on your own, it's an amazing way to get to know yourself while making new friends along the way. We can arrange for you to share a room with people in your age range at no charge, or you can pay a supplement for your own room. If there's an odd number of solos, we'll rotate a single room on a random basis.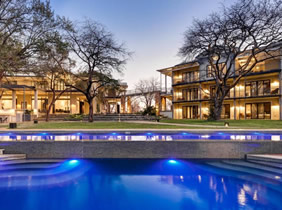 Starting Point Hotel
Palm River Hotel, Victoria Falls, Zimbabwe
The hotel's location could not be more idyllic, situated as it is along the banks of the iconic Zambezi River, among towering indigenous trees and only 4 kilometres from Africa's Natural World Wonder, Victoria Falls – so close, in fact, that on a clear, quiet day you can hear the thunder and see the spray of the mighty waterfall from your room.
Palm River Hotel features accommodation with an outdoor swimming pool, free private parking, a fitness centre and a garden. Boasting room service, this property also has a restaurant and a terrace.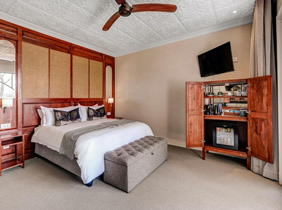 Well-appointed with modern international standard 5-star hotel furnishings, all Deluxe Rooms include a private balcony where guests can enjoy views of the Zambezi River and the gardens, a spacious bedroom with a writing desk, bedside tables, and a fully equipped tea and coffee station.
Enjoy a fusion fare within the Palm River Hotel restaurant dining hall; encompassed by tall ceilings, classic parquet flooring and large sliding doors that open out onto an idyllic riverfront vista. The dining experience flows onto to a large patio and out to an al fresco dining space, sheltered by a canopy of indigenous trees.
Finishing Point Hotel
Camissa House Hotel
, Cape Town
Located in Cape Town, 2.6 km from Table Mountain, Camissa House provides accommodation with a restaurant, an outdoor swimming pool and a bar. Among the facilities at this property are room service and a concierge service, along with free WiFi throughout the property. The property is non-smoking and is set 3.3 km from Long Street.
At Camissa House, every room is fitted with air conditioning and a TV.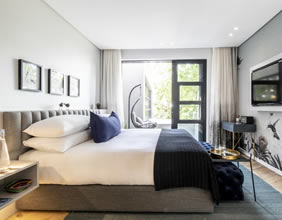 The accommodation offers a continental and buffet breakfast.
Camissa House offers a terrace and guests benefit from a daily high tea, the free shuttle service and 24-hour butler service.