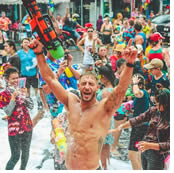 Arm yourself with water guns, super soakers and a sense of adventure if you plan on joining this all-gay Songkran tour. Cannonball into The Land of Smiles on this sopping Songkran adventure. Our journey begins on the sandy shores of Phuket and Krabi, two popular resort destinations on Thailand's south-west coast. Expect plenty of optional watersports like sea kayaking, swimming and snorkelling. Then it's off to the country's mountainous north where we'll get doused in culture, cuisine and nature. Specifically we'll visit stunning Buddhist temples, devour a delicious Thai cooking class and even enjoy an optional visit to a respected elephant sanctuary.
If you're interested in visiting The Land of Smiles but these dates don't work, check out our Thailand Temples & Beaches Gay Tour and Thailand Gay New Year Celebration Tour.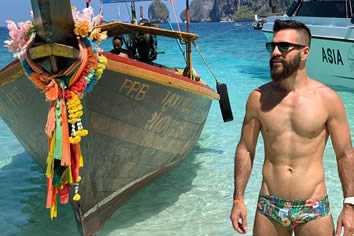 • Get absolutely drenched on the streets of Bangkok during the world's largest water fight, Songkran
• Enjoy optional excursions like a visit to a respected elephant sanctuary where you'll meet and learn about Thailand's famously friendly giants
Note: animal welfare is extremely important to Out Adventures and petting or riding the rescue elephants is strictly prohibited
• Enjoy a day of sun, sand and sea on famous Railay Beach in Krabi, home of the postcard-perfect longtail boats
• Enjoy Bangkok's rowdy gay nightlife along Silom 2
• Kayak into the mysterious caves of Phang Nga Bay's limestone towers
• Tuk tuk through Bangkok on a delicious street food tour, nibbling everything from crispy catfish to spicy red papaya
• Braise, broil and fry your very own three-course dinner during a fiery Thai cooking class
• Explore the Grand Palace, home to the King of Siam
• Find your zen in ancient Buddhist temples and at important spiritual sites
• Shop for the perfect souvenir at the Chiang Mai Night Bazaar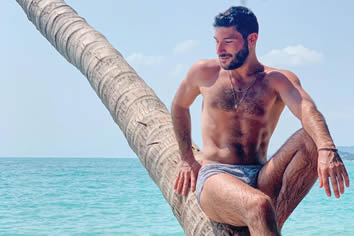 Day 1 - Arrive Phuket, Thailand
Sawadee Krap! Welcome to Phuket. And thank you for joining our gay Songkran adventure.
Our adventure begins at 4pm with a brief Welcome Meeting followed by a short orientation walk around the popular tropical destination.
Then we'll savour an incredible Thai Welcome Dinner at one of Patong's most renowned restaurants. Thaan hai aroi na khrap! (Bon Appetit!)
Hotel: Clover Patong Phuket Hotel
, Phuket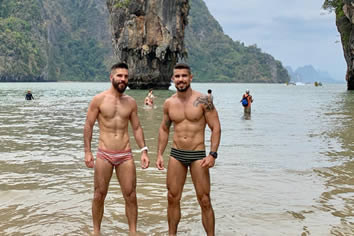 Day 2 - Phuket
Good morning, Gentlemen. After a leisurely breakfast you'll have a little free time to wander the loud and lively streets of Patong for souvenirs and postcards.
We'll convene around 11:30am for our full-day sea kayaking experience. For this excursion we'll board a pontoon boat and jet over to Phang Nga Bay's limestone karstic islands where quiet lagoons and marine caves await. For the wildlife enthusiasts among us, these islands are home to macaques, water monitors, kingfishers, mudskippers, egrets and brahminy kites. It's here we'll board sea kayaks and tour the beautiful ecosystem.
Back on our boat we'll enjoy both a fabulous lunch and dinner as well as a quick tutorial on how to make your own krathong (buoyant, all-natural decorated baskets). Just after sunset we'll paddle into a dark cave once more and release our lit krathong into the sea. If we're lucky, the candlelight will stir up the bioluminescent plankton.
Hotel: Clover Patong Phuket Hotel
, Phuket
Day 3 - From Phuket to Krabi
This morning we will board a private land transfer and drive to quiet Krabi. Perhaps pre-download a podcast or two as the drive can take up to 4 hours.
Upon arrival we'll need to actually board longtail boats to access our ocean-front resort. Krabi has become a popular tourist destination thanks to its crystal clear water, white sandy beaches and striking karst peaks. If the scenery feels hauntingly familiar, you may remember the tropical towers from 1974's 007: The Man with the Golden Gun.
While we'll arrange an optional group dinner this evening, feel free to enjoy the region's fragrant cuisine on your own.
Hotel: Railay Bay Resort & Spa
, Krabi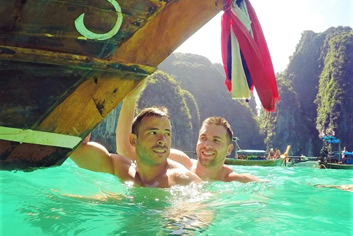 Day 4 - Krabi
Today is completely free, allowing you the opportunity to either soak up the sun, enjoy our luxe hotel's many amenities or wander the nearby green spaces and jungle.
However, we are planning a completely optional speedboat and snorkelling tour with stops at four of the Andaman's most popular island ecosystems. The price will vary depending on interest.
Finally, tonight we're hosting another optional group dinner you're more than welcome to join.
Hotel: Railay Bay Resort & Spa
, Krabi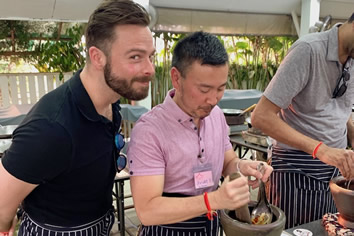 Day 5 - From Krabi to Chiang Mai
Today we leave the sand and sea behind in favour of Thailand's northern capital, Chiang Mai. This cool, mountainous region is known for its deep Buddhist traditions and sleepy aura.
Around 4pm we'll gather for a delicious (and informative!) Thai cooking class. We'll meet our local instructor at a busy market where they'll point out regional ingredients, fragrant spices and exotic fruit. From here we'll venture to an outdoor classroom where our instructor will provide a clear demonstration before we chop, broil, bake and fry our very own 3-course Thai dinner.
Then it's back to the hotel and an optional visit to one of Chiang Mai's local gay bars for the region's popular Chang beer.
Please note: Today's flight is not included in the cost of the tour. Please see Trip Notes for a special note on purchasing domestic airfare.
Hotel: The Rim Resort
, Chiang Mai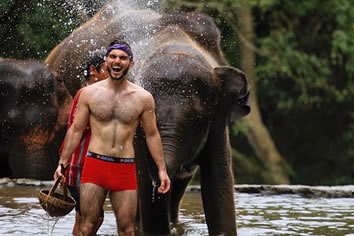 Day 6 - Chiang Mai
Another day, another amazing optional activity! After a quick breakfast, you're welcome to join our full-day elephant sanctuary excursion. If you choose to join in on the fun we'll leave our hotel early via private transfer to a well-respected sanctuary that rescues elephants from circuses and other unfavourable situations. We'll meet the friendly giants and their calves before following them to a watering hole to watch them play in the mud. Our private mahout (elephant keeper) will teach us about the importance of these magnificent beasts in Thai culture. We'll also get our hands dirty preparing elephant food to be consumed later.
If you join this tour lunch will be provided at the sanctuary. Tonight is free.
Please note: for the protection of yourself and the elephants, tourists are not allowed to pet or ride the animals.
Hotel: The Rim Resort
, Chiang Mai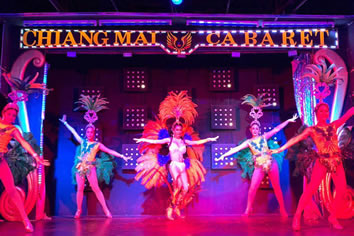 Day 7 - Chiang Mai
Today you have a free morning and afternoon to enjoy any number of optional activities in the area, including but not limited to ziplining and/or white water rafting.
No matter how you choose to spend your day, we'll reconvene at 5pm to delve into Chiang Mai's Buddhist side at Wat Phra That Doi Suthep. The temple is perched on the hill overlooking Chiang Mai allowing some pretty spectacular views. At this gorgeous temple we'll learn a little more about the religion and it's importance to Thai people past and present.
Then it's off to The River Market Restaurant for an aromatic Thai dinner followed by some shopping at the exciting (if not overwhelming) Chiang Mai Night Bazaar.
Our evening concludes at the hilarious included Chiang Mai Cabaret performance. Local Queens will make you squirm and squeal as they perform everything from Whitney's power ballads to Kylie's dance anthems.
Hotel: The Rim Resort
, Chiang Mai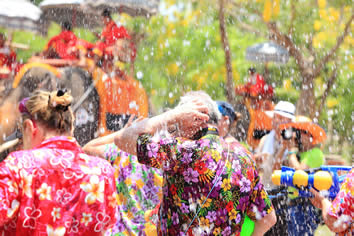 Day 8 - From Chiang Mai to Bangkok
Hey ho, it's off to Bangkok we go! After an early breakfast we'll fly south to the country's massive capital to celebrate Songkran. Bangkok can often overwhelm visitors who aren't prepared for her congested streets and chaotic sidewalks. But below this bustling exterior is a fascinating city with a sweeping history, exceptional diversity, underground arts and culture scenes, and some of Southeast Asia's most lauded restaurants.
Speaking of restaurants, after we drop off our luggage, we'll board tuk tuks and begin our private street food tour. We'll taste spicy raw papaya salad, deep-fried catfish and spicy pork meatballs.
To break things up we'll also visit the blossoming flower market before finishing our sumptuous adventure at the city's best Pad Thai joint—don't worry about the inevitable queue as we've secured a special reservation and we can walk right in.
If the group is up for it we can even enjoy our first brew in Silom 2, the city's queer strip.
Please note: Today's flight is not included in the cost of the tour. Please see Trip Notes for a special note on purchasing domestic airfare.
Hotel: Pullman Bangkok Hotel G
, Bangkok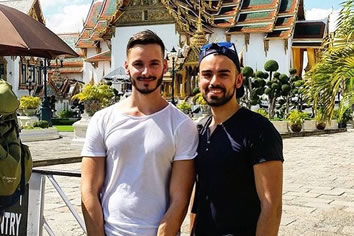 Day 9 - Bangkok
If you aren't too tuckered out this morning, you're welcome to join us on our included big Bangkok city tour. We'll begin at Wat Po where you can grab a selfie with the reclining Buddha. Then we'll stroll the impressive Grand Palace and appreciate its magnificent architecture. Finally, we'll swing by the Queen Sirikit Textile Museum before lunch at a beloved local restaurant.
After returning to our hotel you'll have lots of free time to battle the rowdy crowds that have gathered for Songkran. Arm yourself with goggles, a super soaker and some water bombs before heading out into the streets—this is literally the world's largest water fight!
Tonight we have our official Farewell Dinner followed by more Songkran shenanigans along Silom Road. If the group is up for it, a final dip into Silom 2 can also be arranged.
Hotel: Pullman Bangkok Hotel G
, Bangkok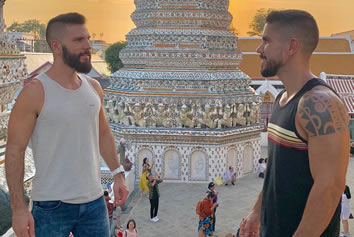 Day 10 - Bangkok Departure
There are no activities planned today, so you are free to depart or further explore at your leisure.
Please note: today is the final day of Songkran and there will still be plenty to do and see if you wish to extend your stay. If not, thank you for joining our big gay Songkran adventure. Safe journey home!