Portugal — the European continent's west coast — has become rather fashionable in recent years. Sure, the appeal is understandable with its hundreds of miles of shore and a California-type climate, but beyond that it's an ancient compact land with a very rich history, pretty villages, monumental architecture, excellent food and wine, 17 UNESCO cultural World Heritage Sites, hospitable people and laid-back lifestyle. Five hundred years ago Portuguese explorers set out to explore the world. Now the world (some of it anyway) is coming to them.
Portugal's second city PORTO is fast catching up to Lisbon as a worthwhile destination in itself thanks to its UNESCO World Heritage riverside, cultural happenings, and cool factor. In recent years the city has taken off as a center of arts, fashion, and nightlife. The charming old neighborhoods remain (with quite a bit of facelifting going on), but impressive modern touches have made their entrée as well in the likes of a concert hall and an arts center designed by renowned architects.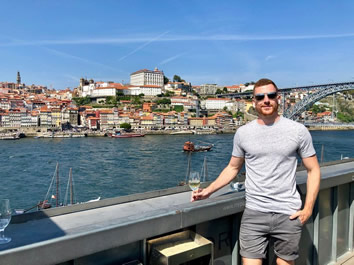 Between Porto and the border with Spain the DOURO RIVER flows through some of the world's most beautiful wine country. A UNESCO World Heritage Site, steep vine-covered, terraced hills flank the river. Speckled amidst the scenery are the wineries many of which are located in centuries-old manor houses. We sample some vintages in one of the valley's historic quintas (estates) surrounded by the stunning environment.
The ancient university city of COIMBRA is arguably Portugal's most romantic, thanks perhaps to a famous medieval love story associated with the city and present-day students playing their guitars al fresco. Its atmospheric narrow alleys lead to the prestigious hilltop university — one of the oldest in Europe, founded in 1290.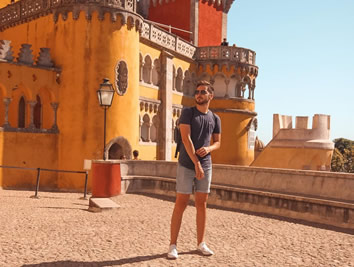 The city of EVORA is a treasure house of tradition and is surrounded by the vast rolling plains of the ALENTEJO region (the country's largest), where black pigs feast on acorns under forests of cork oak trees to produce tasty hams. The area is known for its hearty cuisine and some excellent wines. The city — with its near uniformly whitewashed buildings — is one of Portugal's prettiest and another UNESCO World Heritage SIte. Its architectural ensemble, from Roman to Mudéjar, Gothic to Renaissance, is well preserved thanks in part to centuries of rural isolation.
At the wide mouth of the Tagus River LISBON, the "city of seven hills," is the country's political, cultural, and economic epicenter. It supposedly enjoys more sunshine than Madrid, Rome, or Athens. It's got treasure-packed museums, very atmospheric old neighborhoods, impressive monuments, great restaurants, antique trams, wonderful views, an increasingly hip vibe, and more. We finish our trip here with three nights including a day trip out to the towns of SINTRA and CASCAIS.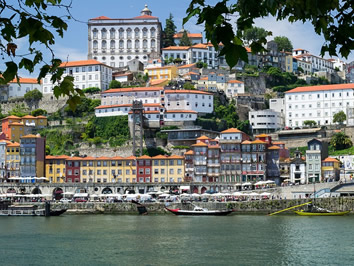 Day 1 - September 07, 2023
Arrival in Porto, Portugal
After flying into Porto (OPO) under your own air arrangements please make your way to our lovely city-center hotel.
This evening we'll gather in the hotel for a welcome drink before we go out for our first of many great meals on this trip.
If you would like to arrive in Porto a day early we can set you up with an additional night at our group hotel.
Meals: Welcome Drink, Welcome Dinner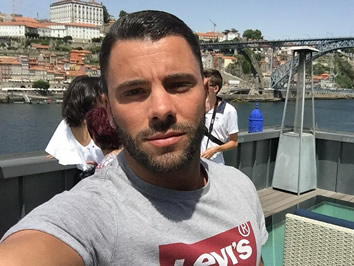 Day 2 - September 08, 2023
Porto
With its splendid geographical location at the mouth of the Douro River and an architectural heritage of exceptional quality, the historical center of Porto achieved UNESCO World Heritage status in 1996, and has boasted various accolades such as "best European emerging destination."
The country's second-largest city, Porto gave its name to Portugal and to its famous wine known worldwide: Port. It is here that the wine is brought from farther upriver to several well-known lodges to be aged, blended, and processed. The wine is then shipped from here to destinations worldwide.
Built on the steep banks of the Douro River that divide the city, Porto is much more than the center of the Port wine industry. It can boast some great historic sights too in its old quarter. Its bridges and monuments, wonderful azulejos (decorated tiles), flowering balconies, good shopping, and great restaurants make for quite an impressive second city.
On our full-day walking tour of Porto we'll see:
Mercado do Bolhão — a lively produce and meat market in a 19th-century wrought-iron structure.
Street art murals.
São Bento Train Station — One of the world's most beautiful train stations, from the Beaux Arts period, its dramatic azulejo (tile) panels of historical scenes are a show stopper.
Palácio da Bolsa — A splendid Neoclassical monument (1842-1910), the former stock exchange honors the city's past and present merchants and traders.
São Francisco — Dazzlingly Baroque on the inside, and smothered in gold leaf, this is one of Porto's knockout churches.
Ribeira — This is Porto's charming riverfront district with its old colorful buildings, cafes, river promenade, and lovely views that take in the sweep of the city, including the Dom Luís I Bridge and the Port wine lodges on the opposite side.
Dinner this evening is open.
Meals: Breakfast & Lunch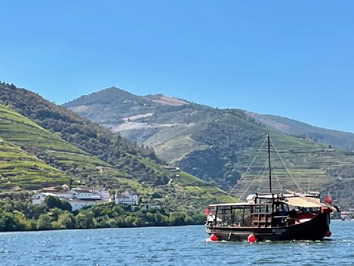 Day 3 - September 09, 2023
Douro River Valley
The Douro River valley is one of Europe's prettiest wine regions and also one of the oldest demarcated wine regions in the world. In fact, there are some 4,000 vintners scattered in these hills on both sides of the river. The laboriously terraced vines rise up from the river in a majestic landscape of great beauty and are another UNESCO World Heritage site. Today we'll explore this area, both on land and by river excursion, visiting a vineyard and passing through small towns in the area.
From Porto it's about 90 minutes into the heart of the region as we drive among the vineyards and call in at one of the beautiful wineries in the area to sample their various quality vintages and also to have our lunch.
Later we'll ride on a present-day version of a rabelo boat. These boats were once used to transport Port wine from this region downriver to the city of Porto. For about an hour heading upriver, we admire the gorgeous, very steeply terraced hillsides from river level, passing whitewashed quintas (farms) perched high above the Douro.
After returning to Porto dinner is open.
Meals: Breakfast & Lunch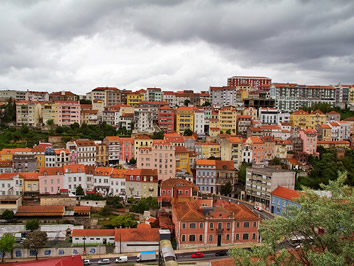 Day 4 - September 10, 2023
Coimbra / Alentejo
Today we leave the north and go south into central interior Portugal, but first we'll stop off at Coimbra, an animated and romantic city and the country's educational center. If "Coimbra is a lesson," as the popular fado song says, Coimbra is foremost a lesson of Portuguese history.
The historic and wonderfully atmospheric center dates from Moorish times. The city's university is the oldest and most prestigious in Portugal and one of the oldest in Europe. Students still attend class in black robes and capes. The bells which have been regulating academic life since the 16th century still toll in the University Tower, reminding us that this is, above all, a college town. We'll see the magnificent Joanina Library, one of the richest in Europe and a testament to the Baroque movement, which houses some 250,000 books illustrating centuries of history on gilded bookshelves under frescoed ceilings and alongside huge rosewood, ebony and jacaranda tables.
After lunch in Coimbra we continue south into the heartland of Portugal — the Alentejo region. This is Portugal's largest region and has traditional whitewashed villages, marble towns, majestic medieval cities, centuries-old farming traditions, and cork production. Fields are peppered with cork-oak and olive trees that have withstood the ravages of time. It's also a place for traditional food where gastronomic delights are plentiful.
Our destination for the next two nights is Évora.
Meals: Breakfast, Lunch & Dinner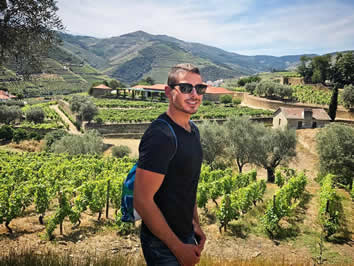 Day 5 - September 11, 2023
Evora & Environs
Topped by an imposing cathedral, Évora is laid out over a gently sloping hill rising out of the expansive Alentejo plain. The historic center is guarded with a vast outer wall, and the city represents a valuable cultural legacy that UNESCO has classified as yet another World Heritage site on our itinerary thanks to its ancient history and its typical and very well preserved urban features dating from the 16th to the 18th centuries.
One of the more curious sights here is the unique Chapel of Bones. The walls and columns are lined with the bones and skulls of some 5,000 people — a solution drawn up by monks in the 17th century to deal with overflowing graveyards. An inscription at the entrance says "We bones that are here await yours." We'll also see the ruins of an ancient Roman-period temple, once part of the Roman Forum, considered one of the best-preserved Roman monuments on the Iberian peninsula. It's in such good shape because it's thought that it was walled up in the Middle Ages to create a fortress and was later used as a slaughterhouse. It was only uncovered late in the 19th century. We'll also visit the city's impressive Cathedral (the largest in Portugal) and pass through the city's main square, the Praça do Giraldo, which was the market during the Moorish period. The wrought-iron balconies on the buildings that ring the square are holdovers from that period.
Outside of Évora we'll experience one of the Alentejo's award-winning wine estates. The region is known for it full-bodied reds, olive oil, and cork production. Alentejo wines are counted among the most celebrated in Portugal. Our lunch, based on local products of the area, will be at the winery.
After returning to Évora you're free for the rest of the day.
Meals: Breakfast, Lunch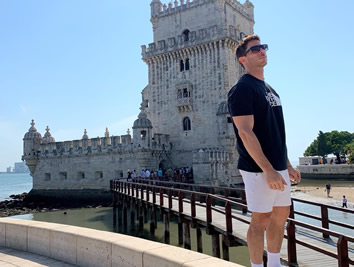 Day 6 - September 12, 2023
Azeitao / Lisbon
On the last leg of our Portuguese journey we head for Lisbon, but before we get there we pass through the nature reserve of Serra da Arrábida. In this area fine country houses and mansions were built by aristocratic families in the Renaissance and Baroque eras, and the region is also known for its cheeses. We'll drive through this scenic mountainous reserve before reaching an azulejo (tile) studio where we can learn about the production and decoration of this iconic Portuguese craft. The studio does reproductions of designs from the 16th to 19th centuries. It's an interesting visit to see how they work.
Lunch will be nearby in the town of Azeitao.
When we arrive in Lisbon we'll go to Belém, known as the Discoveries Quarter and the send-off point for the great Portuguese explorers. Among the majestic buildings and memorials we'll see is the Belém Tower which juts out into the Tejo (Tagus) River, a UNESCO World Heritage-listed fortress that recalls the Age of Discovery.
And nearby we'll visit the stunning Jerónimo's Monastery, commissioned by Manuel I to honor Vasco de Gama's discovery of a sea route to India in 1498. The job of the monks here for four centuries was to comfort sailors and pray for the souls of the kings. The church here is a stunning testament to the Manueline decoration style as is the adjoining eye-popping cloister in all its delicately carved splendor.
Finally we'll reach our hotel where we'll check in for three nights (you can add nights if you wish). Dinner this evening will be a cultural experience. Fado is a recognized symbol of the country, a music and performance that is genuinely Portuguese. In 2011, UNESCO granted Fado the status of World's Intangible Cultural Heritage. At its heart is melancholic sentiment: it could be lost love, longing for a departed one, life's everyday struggles, twists and turns of fate, yearning for one's homeland. The singing is emotional.
Please note: Fado dinners start later than our usual dinner times, typically around 9pm.
Meals: Breakfast, Lunch & Dinner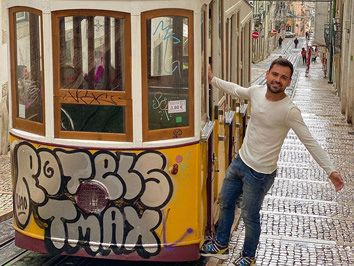 Day 7 - September 13, 2023
Lisbon
In a city that has been influenced by many different far-off cultures over time, there is still a village feel in each historic neighborhood of Lisbon.
Today we'll cover quite a bit of ground in this vibrant, beautiful city. We stroll through the Baixa quarter, the city's historic downtown. After the devastating 1755 earthquake the area was rebuilt on a grid pattern in Pombaline architecture, which was basically based on the military-style buildings in overseas Portuguese colonies. The idea was to rebuild quickly, economically, and "non-shake-ly."
Lisbon's trolleys are one of its iconic sights. They rumble through the city coming within inches of cars (and people), and many are vintage models. We'll have a short ride on one of the lines to get the flavor of the experience. Another must-do in the city is to take in one of the many panoramic viewpoints scattered around this city of many hills.
Another neighborhood we'll explore on foot is the Alfama, the colorful sailors' district once upon a time, which was lively during the times of Moorish occupation and which also survived the 1755 earthquake, making for a lovely photogenic jumble of narrow lanes, buildings and people.
We duck into Lisbon's nearby cathedral. When the Moors were defeated Christians built the cathedral (on the site of a former mosque, of course) in 1150.
Also on our route is the very grand Praça do Comércio (Commerce Square) at the riverfront where ships would dock and sell their goods. Until the big quake the royal palace was here; nowadays it's ringed by government ministries. With its 18th-century arcades, yellow facades, pavement mosaics, and throngs of people and trams passing through it feels very much like the gateway to the city.
After our lunch you have an afternoon to follow your own interests — a museum, shopping, idling in a cafe, enjoying a drink and the view from our hotel's rooftop bar.
Meals: Breakfast & Lunch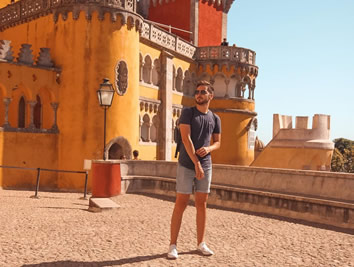 Day 8 - September 14, 2023
Sintra / Cascais
On our last day we'll take a drive out to Sintra, for centuries the summer getaway for Portugal's kings. The area is a mix of natural and man-made beauty with castles, tropical plants, hilly terrain, lush valleys, and views of the Atlantic.
In Sintra we'll see the Quinta da Regaleira, one of the town's most enigmatic sights, a sort of alternate world surrounded by lush green vegetation. This extravaganza was done by an Italian opera-set designer for a wealthy Brazilian coffee baron. Built in the early 1900s the mansion was created in a Romantic revivalist style, in an imitation of Gothic, Manueline and Renaissance architectural and decorative forms, mixed with a mythical and esoteric symbolism. Inside the mansion are frescoes, Venetian glass mosaics, a crazily carved fireplace, and mythological symbols.
The extensive grounds of the Quinta are a delight to wander, stretching uphill from the mansion. There's an elaborate chapel, viewpoints, fountains, an artificial canyon with ponds and a waterfall, grottos, secret tunnels, and the initiation well descending 90 feet and wrapped in a nine-tiered spiral staircase — all sorts of fanciful stuff.
We move on to the nearby town of Cascais. Traditionally a fishing village, Cascais enjoyed an important period of development in the 14th century, when it was a major stopping off point for boats on their way to Lisbon, turning it into a very busy port at that time. It was, however, in the second half of the 19th century, when sea bathing became a popular activity, that Cascais was given the impetus that transformed it into a very fashionable summer resort. Nobility built palaces and beautiful villas in the town, spending the hottest season of the year, and completely transforming the appearance of the former fishing village. After lunch it's a nice seaside town to enjoy a walk, browse the shops, and grab an ice cream.
After returning to Lisbon we'll have some time to relax or maybe you'll want to get a start on your packing before we enjoy our farewell dinner.
Meals: Breakfast, Lunch & Dinner
Day 9 - September 15, 2023
Lisbon, Portugal Departure
You can depart any time you like this morning — or enjoy further time in wonderful Lisbon!
Meals: Breakfast