Few countries in the world offer as much intrigue and surprise as Vietnam and Cambodia. While touring these destinations, one learns to expect the unexpected, and to simply be impressed at every turn.
These are countries that abound with superlatives. You will see some of the world's most beautiful scenery, eat some of the world's most inventive cuisine, and visit some of the world's most mystifying archeological sites.
See firsthand ancient Angkor Wat (the largest religious building in the world), visit stunning China Beach, cruise picturesque Halong Bay, shop the silk lantern-lit streets of Hoi An and so much more.
Check out our pre trip to Laos,, March 11 - 16, 2023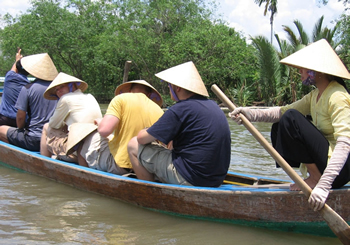 • Fully escorted with the services of a Zoom Vacations Concierge throughout the trip.
• Accommodations at the finest 5 star hotels throughout
• Visit the Angkor Archeological site, a UNESCO World Heritage Site, and one of the world's foremost treasures.
• See the mysteries of Angkor Wat unravel as Angkor's best guide breathes life and meaning into the carvings, temples, and statues that comprise the 401 square kilometer site.
• Enjoy two days at famous China Beach, one of the most beautiful beaches in Asia.
• Receive two complimentary spa treatments per day during our stay in China Beach.
• Learn Vietnamese cooking at our class in Hoi An, where you will learn how to recreate some of the incredible dishes we will enjoy throughout our trip.
• Take an overnight cruise on Halong Bay, perhaps the most photographed spot in all of Vietnam, with its tremendous limestone peaks surrounded by traditional boats with brightly colored sails.
• Lunch and dinner while cruising Halong Bay.
• Explore Surprise Cave in Halong Bay.
• Breakfast daily in our five star hotels and resorts.
• Tour the historic imperial city of Hue.
• Cook dinner with a local family in Hue.
• Take our taste of Saigon city tour.
• See the military tunnels of Saigon from the Vietnam War.
• Enjoy a beautiful cruise through the Mekong Delta with lunch at a restaurant from the turn of the century.
• Learn about the ancient craft of making edible rice paper, coconut candies, popped rice, and more from local people living in the Mekong Delta.
• Take a cruise through the floating Cambodian Village of Chong Khnies.
• Explore the surprisingly vibrant gay nightlife of Siem Reap, Cambodia, just steps from our hotel.
• Explore the historic quarter of Hanoi from the comfort of your very own "chauffeur" ridden cyclo.
• End your tour at our magical surprise farewell dinner, a Zoom Vacations signature event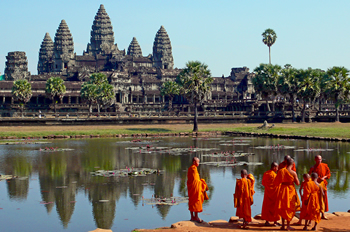 Saigon, Hanoi, China Beach, Halong Bay, and Angkor Wat
Laos Gay Tour, March 11 - 16, 2023
Day 1 - Thursday, March 16, 2023
Arrive Hanoi, Vietnam
Hanoi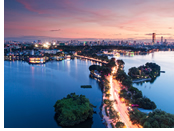 Hanoi is Vietnam's capital and is described by almost all who go there as 'an old-fashioned city'. Old-fashioned in style, it is a city of lakes, parks, trees, villas, mansions and an area called the Old French Quarter where crumbling houses are crammed into narrow alleyways that are still named after the goods that were traded there – Silk Street, Gold Street, even Fried Fish Street! Hanoi has sidewalk cafes, sidewalk barbers, tree-lined bicycle-filled boulevards, and elegant colonial French mansions.
Arrival:
Upon arrival at Noi Bai Airport, you will be met by our local guide and transferred to your hotel for check-in.
Evening:
Welcome Dinner and Cocktails
This evening we welcome you to Ha Noi with a special dinner at one of the city's most special venues.
Accommodations: Sofitel Legend Metropole Hanoi Hotel, Hanoi
Meals Included: Welcome Dinner
Day 2 - Friday, March 17, 2023
Hanoi Sightseeing
7:00 AM to 11:00 AM:
Breakfast is served at the hotel.
Morning:
Hanoi Sightseeing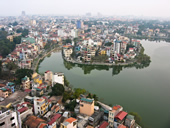 You will begin your sightseeing with a visit to Ba Dinh Square and the Ho Chi Minh complex. The tomb is monumental, built of marble, granite and precious wood.
Behind the Mausoleum, you can see Ho Chi Minh's house. The simple house where Ho Chi Minh lived and worked is made of wood and enjoys a tranquil setting, with a view of a lotus pond.
There is also the barely concealed misery of the 'Hanoi Hilton' where so many prisoners of war were incarcerated, as well as the religious pride that constructed the beautiful Temple of Literature - it's all here in Hanoi, a microcosm of Vietnamese culture.
Lunch at one of the best restaurants in town — a favorite of prior Zoom Vacations guests
Afternoon: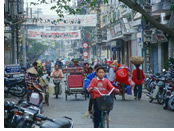 After lunch, you will continue visiting Hanoi and cyclo tour.
This afternoon enjoy the tree-lined streets of Hanoi with its French colonial architecture, including the recently restored Opera House.
Take to the streets of the Ancient Quarter or 36 Streets District by cyclo – Vietnam's most traditional form of transport. Enjoy weaving through the narrow streets and tree-lined avenues. Your personal cyclo rider will take you along some of Hanoi's boulevards in the center of the town to Hoan Kiem Lake, also known as Lake of the Restored Sword from the legend that surrounds it. The Old Quarter is a densely populated corner of the city which was once a centre of commerce where goods were sold under the street name of a particular guild, with ancient homes and temples interspersed throughout.
Accommodations: Sofitel Legend Metropole Hanoi Hotel, Hanoi
Meals Included: Breakfast, Lunch
Day 3 - Saturday, March 18, 2023
Hanoi - Halong Bay Overnight Cruise
7:00 AM to 11:00 AM:
Breakfast is served at the hotel.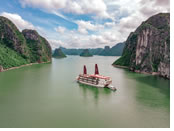 Morning:
After breakfast, load our bags on our vehicle and depart Hanoi to transfer by road to Lan Ha Bay, located within Ha Long Bay, north of Hanoi (approx. 2.5 hours), which is considered Vietnam's eighth wonder of the world – and on arrival it is easy to see why. Three thousand spectacular chalk and limestone outcroppings, cliffs, arches, and coves form a dragon's tail across the bay.
Afternoon:
Ha Long Bay
Your luxurious floating home sets sail around noontime. Enjoy a welcome drink upon boarding while being acquainted with the facilities on board during the welcome briefing. We start our unique journey of exploring one of the new wonders of nature. We enjoy lunch in Ginger's light-flooded dining room offering panoramic views of the passing scenery.
Along the cruise we can see an ancient lighthouse, built by the French over 100 years ago. We head deeper and further south into the maze of Lan Ha Bay. Lan Ha Bay is actually a part of Ha Long Bay which was just recently opened to the public. Relax on the sun deck and soak in the aura of the fascinating scenery that emanates from surreal seascape. During this cruising time there is enough time to enjoy onboard activities. Take a plunge in the pool or get pampered with a selection of fine treatments and massages in the large Lady Ginger spa.
We reach the landing spot of Viet Hai Village on Cat Ba Island where we hop on bikes (electric car available) for an active tour along small paved roads towards a village nestled in a valley. Meet and greet local inhabitants doing their daily work, plus see their homes and the village school.
Back on board, our chef is ready and prepared for an interactive cooking class in the open kitchen at the restaurant. Learn about local ingredients, preparation and cooking of particular dishes to imitate easily at home. We arrive at a tranquil anchor spot for the night. A hidden place to reminisce on the day's adventures and enjoy cocktails under the stars. Dinner is served in the dining room.
You may like to hang out at our bar after with a digestif or pay a visit to the evening cinema which is set up in the dining area. Kick back with your favorite drink in probably the most unusual cinema you have ever visited. Or - have some fun squid fishing before retiring to your room.
Accommodations: Halong Bay Boat – Heritage Line Ginger Luxury Cruise Boat
Meals Included: Breakfast, Lunch, Dinner
Day 4 - Sunday, March 19, 2023
Halong Bay to Da Nang / Hoi An
Morning:
Breakfast and Optional Sunrise Tai Chi.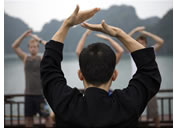 Wake up early and join our Tai Chi session on the sun deck to ease mind and muscles with the first rays of the sun touching the water. Coffee, tea and breakfast pastries await you in the dining room to start the new day.
Ginger anchors up and we cruise to Tra Bau, a secluded spot which is perfect for our morning excursion. In kayaks or bamboo boats we enjoy a close encounter and discovery of the bay. Paddling through the dreamlike landscape with tree-topped islands, you will feel a sense of freedom and harmony with nature that you have never experienced before.
Back on board a hearty breakfast is served in the dining room (or on request served to your room) before we start our journey back to the pier where we arrive around 11 o'clock in the morning. Savor the last cruise moments of this unique journey relaxing on comfy sun beds on the terrace deck. We hope you enjoyed cruising with us in the Hidden World of Lan Ha Bay.
Return to shore, and after disembarking you will be transferred directly to the Noi Bai Airport.
Light lunch box on route.
Arrive at Ha Noi/ Noi Bai airport, and take flight to Da Nang. Upon arrival, meet our guide and transfer to hotel.
Da Nang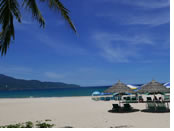 One of the most ancient cities in Vietnam, Da Nang was the centre of the Cham Dynasty from the 2nd century and today boasts the largest and most impressive collection of Cham artifacts anywhere in the world. Close by Da Nang is Cua Dai Beach, immortalized for many by the US television show and still one of the most spectacular beaches in Asia.
On arrival in Da Nang we transfer the short distance to our resort, which is located right on the renowned Da Nang Beach – just a short drive from historic Hoi An town.
Evening:
Tonight, enjoy your choice of two spa treatments, included!
Accommodations: Fusion Maia Resort, Da Nang
– Pool Suite Rooms
Meals Included: Breakfast, Lunch
Day 5 - Monday, March 20, 2023
Da Nang and Hoi An
6:30 AM to 11:00 AM:
Breakfast is served at the hotel.
Morning:
Walking tour in Hoi An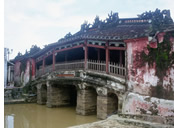 This exquisitely preserved merchant town was declared a UNESCO World Heritage Site in 1999 and its streets are best explored on foot. Wander with your guide past low tile-roofed buildings, the bustling central market and the riverfront where colorfully painted boats are moored.
Visit a private home, where members of the same family have lived continuously for centuries. See one of the family chapels built as a center for worship of one's ancestors. Continue on to a typical Chinese-style communal hall and on to the Japanese covered bridge.
Return to your hotel.
Afternoon:
Afternoon at leisure to enjoy the beach.
Receive two additional spa treatments, included!
Accommodations: Fusion Maia Resort, Da Nang
– Pool Suite Rooms
Meals Included: Breakfast
Day 6 - Tuesday, March 21, 2023
Da Nang and Hue
6:30 AM to 11:00 AM:
Breakfast is served at the hotel.
Morning: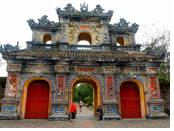 Morning at leisure to enjoy the beach.
Lunch on own account
12h00:
Transfer to Hue city via Hai Van Pass Approx. 3hours
Upon arrival, drop off at hotel for check-in and refresh.
Enjoy an afternoon scenic drive and leisurely guided walk in the countryside of Hue, stopping by some local handicrafts workshop, hidden cultural relics if time permits
Evening:
Authentic home-dining – You are invited to a private ancient house to learn about family traditions and cultural practice We will join the family to cook a special dinner together in a family atmosphere.
Indulge with a herbal foot bath and relax as you wish.
After dinner, transfer back to the hotel.
Accommodations: Azerai La Residence Hotel
– Superior River View Room
Meals Included: Breakfast, Lunch, Dinner
Day 7 - Wednesday, March 22, 2023
Hue to Ho Chi Minh City

Morning:
Breakfast and Hue Tour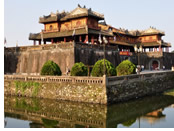 In the morning, visit the splendid Imperial city from where the Nguyen Dynasty ruled between 1802 to 1945.
Continue to visit the elaborate mausoleums of Emperors Tu Duc – one of the most beautiful works of royal architecture of the Nguyen dynasty. The tomb lies in a boundless pine forest, 8 km from Hue.
Lunch on own account.
Transfer to Hue airport for departure afternoon flight to Ho Chi Minh City.
Upon arrival, meet our guide and transfer to hotel.
Accommodations: The Reverie Saigon Hotel
Meals Included: Breakfast and Boxed Lunch
Day 8 - Thursday, March 23, 2023
Ho Chi Minh City
7:00 AM to 11:00 AM:
Breakfast is served at the hotel.
Morning:
Ho Chi Minh City Tour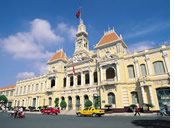 This morning, you will enjoy tour of the highlights of this exciting city. Visit the former Presidential Palace, which is now preserved as a museum, including the underground communications bunkers, headquarters for the Saigon Government during the Vietnam War.
Visit Notre Dame, an impressive neo-Romanesque cathedral in the centre of city, the 'wedding cake' styled Hotel d'Ville and Dong Khoi Street – formerly the centre of haute couture in Saigon when it was known as Rue Catinat.
Visit the bustling Ben Thanh central market.
Lunch at HOI AN restaurant (included).
Return to hotel to freshen up. Afternoon at leisure to enjoy a bit of shopping, or ta.
Vietnam Cooking Party and Cocktail challenge: This evening, we will learn how to make several Vietnamese dishes in a relaxed and fund atmosphere.
Accommodations: The Reverie Saigon Hotel
Meals Included: Breakfast, Lunch, and Dinner
Day 9 - Friday, March 24, 2023
Ho Chi Minh City to Siem Reap
7:00 AM to 11:00 AM:
Breakfast is served at the hotel.
Transfer to Saigon Airport for flight to Siem Reap.
Welcome to the Kingdom of Cambodia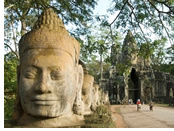 On arrival at Siem Reap International Airport, you will be met at the arrival gate by your Zoom Vacations tour guide, and transferred by air-conditioned vehicle on the scenic route to Siem Reap Town giving you a sneak peak of Angkor Wat. Continue on to your hotel to check-in and freshen-up.
The Kingdom of Cambodia remains one of Asia's most enthralling destinations, deeply enriched by history and culture that never fails to impress. From the deserted beaches on the Gulf of Thailand to city streets of Phnom Penh where the senses are heightened, from the deep jungles and indigenous tribes of the northwest, to the final mystique and grandeur of the Angkorian period in all its glory, Cambodia is a land as yet untouched by commercialism and development. In its place lie a warm, enigmatic people maintaining the richness of their culture, now for the entire world to see.
Siem Reap is a quaint and peaceful town in the north of the Kingdom of Cambodia; rich in charm and retaining the feel of a 'big country town', it's the perfect base from which to explore the regions' Wonders. The city thrives in the shadow of the largest religious building in the world, Angkor Wat; and on the edge of the largest fresh-water Lake in South-East Asia, the Tonle Sap. Beyond the archaeological attractions, lush green countryside rich with culture and tradition and shy but friendly locals welcome you with their warm smiles. Lose yourself in remote 'jungle temples', trek to the holy mountain of Phnom Kulen and experience an innovative but challenging way of life on a boat trip through a floating village on the Tonle Sap Lake.
Take the time to treat yourself with 1 hour massage treatment, shop at a socially responsible enterprise, local market or an exclusive atelier or enjoy the city's growing cultural and arts scene.
Accommodations: Belmond La Residence D'angkor, Siem Reap
- Junior Suite
Meals Included: Breakfast, Lunch
Day 10 - Saturday, March 25, 2023
Siem Reap and Temples: Ta Prohm, Angkor Thom City, Angkor Wat for Sunrise
Early Morning: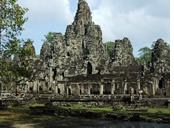 After sunrise, we will visit the amazing 12th Century, Hindu inspired temple of Angkor Wat. Angkor Wat is arguably the largest religious building in the world and has a volume of stone equaling that of the Cheops pyramid in Egypt. Conceived by Suryavarman II, Angkor Wat took around 37 years to build and it is generally believed to have been a funeral temple for the king.
It has been occupied continuously by Buddhist monks and is well preserved with ongoing restoration taking place. Intricate bas-reliefs surround Angkor Wat on four sides, and each tells a story, but the most celebrated of all is the Churning of the Sea of Milk, which is located on the east wing. Your guide will explain the mystical tale... There are also more than 2000 stunning Apsaras throughout the temple and no two are identical. Keep your entry tickets.
Head back to the hotel for breakfast.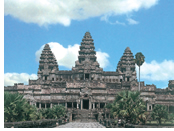 After breakfast you will go back to Angkor Wat to continue your temple exploration. In order to avoid the crowds you will start with Ta Prohm, also known as the 'Tomb Raider Temple' as some scenes from the movie were filmed here. In the dry season it is possible to enter from the spectacular Northern Gate where you will be guaranteed not to see any other tourists. As you trek along jungle paths used only by locals, you will feel like an early explorer; closer to Ta Prohm you will cross the ancient moat and soon after the dense jungle opens to reveal this stunning 12th Century Jungle Temple.
Continue on to Angkor Thom City, the last Capital of the Great Khmer Empire, abandoned in the 17th Century. The high city walls are surrounded by a magnificent 3km x 3km man made moat; you will stop to walk through the Victory gate to appreciate its enormity before continuing by car. Admire the Terrace of the Leper King and the Elephant Terrace before continuing on to the exact center of this great city, which happens to be marked by the marvelous Bayon Temple.
This 12th Century masterpiece is an archaeological wonder of symmetry and grandeur. The exterior gallery walls have extensive and detailed bas-reliefs but the main features are the 49 remaining towers, each with three or four gently smiling faces pointing to the four Cardinal points.
Lunch at a nice local restaurant.
After lunch, we will proceed to the hotel to enjoy some pool time before tonight's event.
Evening:
Zoom Vacations "Until Next Time" Event.
Accommodations: Belmond La Residence D'angkor, Siem Reap
- Deluxe Room
Meals Included: Breakfast, Lunch, and Dinner
Day 11 - Sunday, March 26, 2023
Siem Reap - Tonle Sap Lake - Departure for Flight Home
7:00 AM to 11:00 AM:
Breakfast is served at the hotel.
Mid-Morning:
Tour of the floating villages of Tonle Sap Lake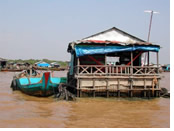 Today we will have a chance to visit the Tonle Sap Lake, the largest fresh water lake in South East Asia. It is the heart of the Cambodian fishing industry and the lifeblood for millions of Khmers living on and around it. Every year during the monsoon season, the flow of water from the Mekong River changes direction forcing water back into the Tonle Sap, bringing nutrients that fertilize the rice fields and support the breeding of over 200 fish species and other life. You will board a boat to see the true way of life in one of the floating villages of the Tonle Sap, where you can see how the Khmer and the Vietnamese live and work side by side.
Lunch is included at the hotel
Afternoon:
Transfer to Siem Reap Airport for your flight home.
Meals Included: Breakfast, Lunch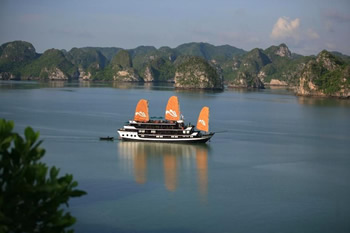 Sofitel Legend Metropole Hanoi Hotel, Hanoi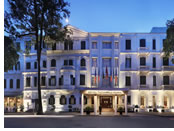 Sofitel Legend Metropole Hanoi
is an iconic award-winning colonial and neo-classical luxury hotel located in the heart of the old city. The hotel offers 364 rooms and suites together with three signature restaurants, three bars, seven function rooms, a heated swimming pool, the luxurious Le Spa du Metropole, complimentary WIFI and a fantastic gym.
Still retaining the hotel's original grandness, rooms feature either an elegant neo-classical theme or classic French decor. Fully air-conditioned, each room is equipped with free internet and a flat-screen TV.
Heritage Line Ginger Luxury Cruise, Halong Bay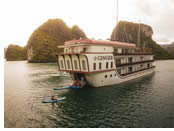 Ginger hosts only 12 large suites, all naturally light-flooded and with well-sized balconies. Ginger expresses her elegance with warm timber floors, marble bathrooms and distinguished design themes that interlace the long-lasting traditions of Northern Vietnam paired with contemporary accents.
Ginger's uniqueness is expressed with a special culinary theme as well as a refreshing lifestyle atmosphere. The terrace deck is a marvelous public area. An almost 360-degree light-flooded restaurant offering live cooking is framed by an outdoor alfresco area. An indoor bar corner invites to relax before or after dinner.
The most exclusive facility is Ginger's pool on the terrace deck. Surrounded by comfortable shaded sunbeds, the views from the pool are spectacular. Combine relaxing spa treatments with dramatic outlooks through floor to ceiling glass windows on the bay.
Fusian Maia China Beach Resort, Da Nang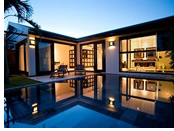 The new Fusion Maia Da Nang
is a unique and exciting fusion of resort and spa; where spa treatments are inclusive and a part of daily living in this beach resort.
Fusion Maia Da Nang is the first all pool villa style resort in the destination and offers 87 pool suites, spa villas and beach villas each with modern, open-plan living and private courtyard with swimming pool.
'Freedom' options include spa treatments that are included in the rate, and breakfast available at multiple locations. The resort is set on the famous 'China Beach' in Central Vietnam, only 10 minutes from Da Nang, 20 minutes from the airport and 20 minutes to explore the eclectic and historic town of Hoi An.
Azerai La Residence Hotel, Hue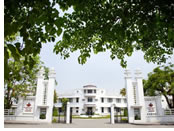 Step back in time! Indulge serenity. Azerai La Residence Hue
is an enchanting boutique hotel on the banks of the fabled Perfume River overlooking the former Imperial Citadel – once home to Emperors and now preserved as a UNESCO World Heritage Site. Endowed with opulence, excellence and warmth, this former residence of the French Colonial Governor was painstakingly restored in 2005 and redeveloped as an exceptional design hotel. The hotel's distinctive bowed façade, long horizontal lines and nautical flourishes are hallmarks of the 1920's Streamline Moderne school of Art Deco architecture.
The Art Deco design aesthetic runs throughout the hotel from the central reception rotunda, flanked by two wings, to Le Gouverneur Bar, Le Parfum restaurant, formal gardens, swimming pool, and 122 guest rooms and suites.
The Reverie Saigon Hotel, Ho Chi Minh City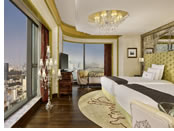 The Reverie Saigon
is the ultimate luxury hotel in Ho Chi Minh City, providing a one-of-a-kind modern lifestyle up to world's finest standard in hospitality industry for both local and international travelers; by successfully combining Vietnam's local warmth and familiar comforts of home with the luxurious pampering of a five-star hotel.
The Hotel offers exceptional guest rooms and spacious suites in Ho Chi Minh City with breathtaking views of the Saigon River and that of the City. It is located on a prime area and provides easy access to international schools, consulates, hospitals and famous landmarks.
Belmond La Residence D'angkor Hotel, Siem Reap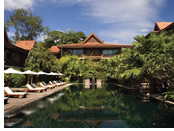 Get the celebrity treatment with world-class service at Belmond La Residence d'Angkor Siem Reap
. La Résidence d'Angkor Hotel is an exclusive hotel, directly next to the Siem Reap River. Its luxurious rooms boast furnished private balconies. There is an outdoor swimming pool. Rooms at La Résidence are decorated with traditional hardwood floors and bamboo furnishings. Each room comes with a satellite TV, air conditioning and private bathroom.
The Dining Room Royal at La Résidence Hotel serves Khmer cuisine and international dishes. Lighter meals can be found at the lounge or pool bar.