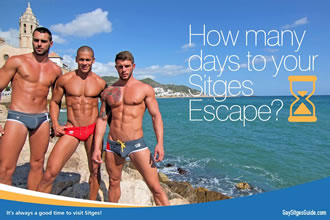 Welcome to Sitges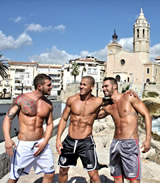 Situated just 30 minutes south of Barcelona on Spain's Costa Dorada, the former fishing village of Sitges is one of the gay holiday hotspots for the discerning gay traveller. Attracting the gay community by its thousands, this ever-popular resort has built a reputation for being one of the most tolerant and one of the most lively summer destinations in Europe.
Today Sitges is a thriving, cosmopolitan town that offers its visitors excellent beaches.
June through September are the busiest months, when the Mediterranean sun – and the men – are at their hottest.
When it comes to sunbathing, Playa de la Ribera in town is where the majority of the gay crowd heads. If you're looking for something a little more remote, or if you want to avoid tan lines, then the Playas del Muerto to the west of the centre are where to go. The further of these two beaches is almost exclusively gay. More...
Staying There - Sitges Gay Accommodation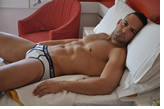 Happy Gay Travel have a great selections of hotels and apartments, all of which are located in the centre of Sitges, walking distance to the main tourist and gay attractions.
These cater for most gay travellers and your and range from value for money to up market.
Like our other resorts, you will soon note a large increase of gay and gay friendly accommodation which will be added in the near future. More...
Getting There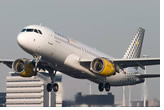 Sitges doesn't have it's own air traffic node, but is nearly as close (approx. 20km) to Barcelona's El Prat Airport as Barcelona itself.
Buses leave from outside Terminal 2b, although they are not that regular. For trains you will have to go one stop to El Prat de Llobregat and change onto a train heading for Vilanova. By far the easiest option is to grab a taxi, which usually costs around 60 euros.
Reus is also fairly nearby, and you might be able to find cheaper flights to here, courtesy of Ryanair.
At a push Girona Airport is possible too. From both these airports coaches take you to Barcelona from where you can easily reach Sitges. More...
The Gay Scene in Sitges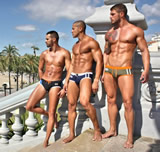 For a small town Sitges is surprisingly well-endowed when it comes to bars, with venues to suit all tastes, ranging from cruisy bars with backrooms and video to traditional music bars.
Essentially the gay bars are located in three areas: around the main drag of Calle Dos de Mayo (known locally as Sin Street), in the older part of Sitges off Calle Mayor, and in the triangle bounded by Calle Espalter, Calle San Francisco and pedestrianised Parellades.
Generally speaking, Sitges' bars don't really come to life until 11pm or so, although one or two (El Horno, for example) open their doors from about 5pm onwards to cater for the crowds coming off the beaches. More...
The Gay Beaches in Sitges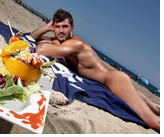 One of the main attractions of Sitges is the large number of clean sandy beaches (see map). Between the distinctive Parish Church at one end of the promenade and the Terramar Hotel at the other there are no fewer than nine breakwaters, with gently sloping golden beaches in between, most of which offer sunloungers for rent, showers and refreshment kiosks.
Although there is only one predominantly gay beach in the centre of town - La Platja de la Bossa Rodona, directly below the Picnic Restaurant on the seafront - in recent years it has begun to be colonised by straights and their families and overspill during the height of summer means that you will find gay men and women just about anywhere along the whole stretch.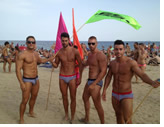 If you can't find a place to tan your tush on the central beaches, then it's only a short walk beyond the church to Platja Sant Sebastià, Platja dels Balmins (for mixed nudey bathing) and Platja d'Aiguadolç.
But that's not all - if you want to get an all-over tan away from the gaze of gawping straight tourists and you're feeling energetic, it's worth the effort heading out to the nudist beaches beyond the Terramar Hotel.
As usual, we would recommend that you keep all your valuables at home! More...