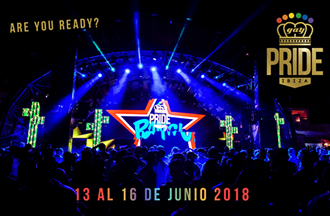 Welcome to Gay Ibiza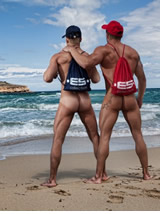 Since the 1960's it has been one of Europe's main summer gay holiday destinations. Residents have long recognised the popularity of their island with gay men and lesbians from around the world.
The original home of the Balearic beat, famous for its image - loud, brash and utterly outrageous. Whilst the straight holiday hoards head for the "lager lout" resort of San Antonio, gay and lesbian visitors prime destination is the Island's capital - Ibiza Town, a quaint old town with plenty of atmosphere and character. Originally starting out as an inexpensive artists location, Ibiza has been an extremely popular Gay destination for over twenty years. As time passed, the island has been adopted by gay European trend setters and is becoming more and more attractive with American visitors. It's still relatively unspoiled and an interesting place to spend a week or two. Many visitors go simply to enjoy the archaeological sites and the two museums, others find great pleasure in visiting the studios and ateliers at Santa Eulailia Del Rio. To the south west of the town centre is the Puig des Molins, a Punic cemetery. The two other major tourist centres are the coastal towns of San Antonio Abad and Santa Eulalia del Río. If you fancy a flutter, the Island has its own Casino. Aside from all this, the major attraction is the very relaxed atmosphere of the island. Residents have long recognised that the popularity of their island with gay men and lesbians from around the world have brought them great recognition and prosperity. More...
Staying There - Ibiza Gay & Gay Friendly Hotels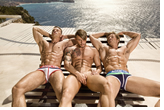 Adonis Holiday offers a great selection of sought after accommodation in Ibiza Town and Figueretas.
These cater for most gay travellers and your and range from value for money to up market.
Like our other resorts, you will soon note a large increase of gay and gay friendly accommodation which will be added in the near future. More...
Getting There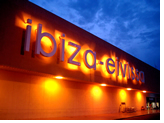 Adonis Holiday offers a great value deals for holidays to Ibiza, together with largest UK & European tour operators. Travel package flights are operated mostly by British Airways, easyJet, Ryanair, Thomas Cook Airlines
, Vueling
, and Iberia
. These are easily more reason that charter based holidays if booked early enough, and operate at various times of the day from mainly Gatwick and Heathrow airports. Regional airports and flights from Dublin and other European airports are also available.
Being an island, there are only two ways to get to Ibiza. Most people prefer to fly into Es Codolar International Airport, as it's the quickest and most convenient option. Several flights arrive each day from a few major Spanish cities as well as from Palma de Mallorca and UK destinations. The other choice is to take a ferry. Ferry services are good and at least one boat per day arrives at Ibiza. The main advantage of taking the ferry is that you can bring your car. More...
The Gay Scene in Ibiza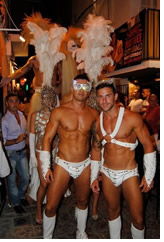 Once the sun sets, your destination will undoubtedly be the centre of Ibiza Town where you'll find an abundance of gay bars and clubs. There's something to suit every taste - from small, intimate bars and restaurants to large, outrageous clubs, some with open-air dancefloors overlooking the sea, floorshows, live bands and orchestras. Bear in mind, the clubs can be expensive and tickets for the best nights are sometimes difficult to obtain. The varied local cuisine includes rabbit, a wide selection of seafood and pork dishes and numerous locally grown fruits and vegetables. The island has plenty of good wines and aromatic liqueurs and imported alcoholic and soft drinks are also widely available. There are also plenty of cinemas, theatres, concerts and art exhibitions. Also remember, you'll need to get around the island by local taxi but these are plentiful and cheap. More...
The Gay Beaches in Ibiza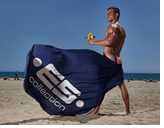 There are over 80 different beaches on Ibiza, each one with its own character and atmosphere. Some are sandy, some have pebbles, some are busy and easily reached, others are remote and secluded. There is a beach for all tastes.
There are two main superb gay beaches on Ibiza, with a scattering of other popular beaches around the island. Really the whole of the south of the island has a bustling gay culture ingrained in the clubbing and tourist scene so no problemos with the closed minded on this little beauty of a Med Island.
Cruising rules pretty much across the south so get ya glad rags on. Also, there's no shortage of Nude beaches and sunbathing spots, with plenty of private rocky coves if your bits are for the chosen few alone.
Playa des Cavallet, just south of the airport in Ibiza has to be the most popular gay beach on the island, but Ibiza is an island of miles of unspoilt coastline and you choose your spot according to taste. If you're looking for seclusion you'll find it on Ibiza's coast! More...
Ibiza Clubbing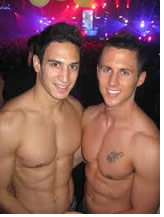 Ibiza has retained a status for being 'the' clubbing island for a very long time. Occasionally an article will appear stating that it is all over and Goa or Ayia Napa is now the place to see or be seen, but it still does not make any difference to the thousands flocking to Ibiza week after week.
One thing needs stating at the start, if you are looking for a gay club that you will immediately recognise as such, stick to Anfora within the walls of Dalt Vila in Ibiza Town, or for as long as it is open Babylon in Botafoc.
Though the majority of the mega-clubs (outside of San Antonio) have at least one gay or "poly-sexual" party a week, these are still predominantly straight affairs. Having said that, if you do want to give the legendary Ibicencen club scene a try at least once in your lifetime, the following pages should point you towards the best nights on offer. Hitting the right club, on the right night, may give you a fresh perspective on why so many people fall in love with the mega-clubs... More...
Ibiza Gay Pride 2018

Gay Pride retutns to Ibiza June 13 - 16, 2018!
Come to an island full of colours, tolerance, respect and magic. Ibiza is known not only for its world famous parties, but also for its gorgeous beaches, diversity and history. Don't miss out our 4th Gay Pride edition.
The LGBT community celebrates its festival of pride, tolerance and defence of gay rights in Ibiza, in the heart of the Mediterranean Sea, accompanied by the perfect summer weather of the Balearic Islands. The clubbing events will increase with three special nights in total across different clubs and the daytime beach activities will continue meaning there'll be entertainment on a 24/7 basis – be prepared for some power naps. These days are a time for uninterrupted recreation, thanks to its nightlife that is unique in the world and its internationally famous clubs, its idyllic beaches where you can enjoy the sun and the Mediterranean Sea, and the city of Eivissa, whose historic centre has been declared a part of our World Heritage by the UNESCO... and all in a gay friendly atmosphere of fun and high spirits.
Don't delay, book your Ibiza Gay Pride 2018 accommodation today! More...