Welcome to Gay Friendly Tenerife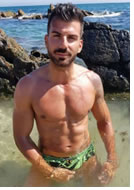 Tenerife is the largest of the seven islands that make up the Canary Islands and welcomes over seven million holidaymakers per year to worship the sun on its volcanic beaches. What's more it's a dramatic place with banana plantations, tropical plants and Mount Teide, Spain's highest peak and the world's 3rd largest volcano, towering majestically over the scenery. If you're lucky, it might even be snow capped!
Affectionately known as the 'island of eternal spring', Tenerife is home to striking volcanic landscapes and open green countryside. Situated just off the West African coast, enjoy golden and charcoal grey beaches, picturesque mountain villages, pretty coastal towns and year-round subtropical climates. More...
Staying There - Tenerife Gay Accommodation


Our main Tenerife resort is Puerto de la Cruz, which is on Tenerife's lush northern coast. Puerto de la Cruz is a historic town and still has a good deal of charm and, as there is far more to see and do in the north of the island than the south, leaves you well positioned for exploring the rest of the island.
Some Gay friendly hotels you'll find at Playa de las Americas - a resort that hasn't been particularly noted for its gay nightlife - there are currently a couple of gay bars with rumours of more opening soon. More...
Getting There


The usual means of travelling to and from the Canary Islands is by aircraft. These days this could hardly be easier and flight prices can represent very good value too, especially when purchased as part of a package holiday.
Tenerife has two airports, the busier international airport in the south (TFS) is "Reina Sofia" and the airport in the north (TFN) is "Los Rodeos" and more commonly used by Spanish and Scandanavian services. More...
The Gay Scene in Tenerife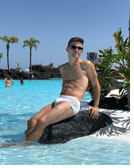 There's no doubt that the neighbouring island of Gran Canaria offers the largest gay scene in the Canary Islands, but Tenerife still has plenty to offer and the locals are a friendly bunch. Santa Cruz, the capital of the island, has only one gay bar, but plenty that are gay friendly and a gay sauna. There are several gay bars in La Laguna plus one gay disco, and there are two gay bars in the south of the Island in Playa de las Americas.
The town with most gay bars and discos is Puerto de la Cruz. There are four gay bars, four gay discos, two gay saunas, gay restaurants, many gay friendly bars and sex shops. More...
The Gay Beaches in Tenerife


Tenerife has many, many, many cruising areas, nudist beaches and plenty of tanned (permanent and all over - the lucky lads!) boys. The perfect weather tends to make the Germans break out their speedos, but if you can look past the dross, there is a lot at which to stare wistfully. Oh hell, even some of the speedo packing Germans look a bit tasty. But it might be the beauty of the locale. More...
Carnival of Tenerife


The carnival in Tenerife (February - March every year) is said to be second only to that of Rio. Although celebrated in every town and village on the island, the most spectacular carnival celebrations are to be found in Santa Cruz de Tenerife and Puerto de la Cruz. Gorgeous girls & Guys, stunning costumes, marching bands , music and happy mayhem.