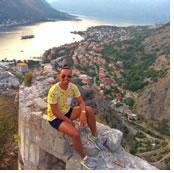 An invigorating gay hike through Central Europe's relatively undiscovered national parks in Montenegro & Albania. Find out why the up-and-coming Balkans are making waves among the travel cognoscenti on this big gay sweaty scamper. Things kick off in UNESCO-listed Kotor Bay where we'll tour Medieval monasteries and photograph fortified island cities. Then we'll swerve inland to enjoy the relatively untouched mountain forests of both Montenegro and Albania—one of the last reserves for brown bears and wolves on continental Europe. It's here we'll spend the bulk of the tour losing our breath during scenic hikes, private boat tours and one particularly exhilarating white water rafting experience.
This tour can be easily paired with our Croatia Dalmatia All-Gay Cruise departure.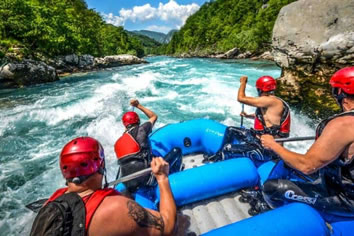 • Trek some of Europe's most undiscovered National Parks and protected forests
• Rip n ride your way through one of Europe's deepest canyons on a white water rafting experience
• Drive around Kotor Bay, stopping in quaint villages to discover Montenegrin culture
• Wander the medieval streets of Herceg Novi, one of the Adriatic's most photogenic cities
• Savour the unforgettable view of Valboa Valley during an Albania picnic lunch
• Dive into Skadar Lake's glistening waters during a private boat tour
• Relax aboard a scenic ferry ride through the towering Koman channel
• Indulge in an afternoon of optional spa treatments at our resort in Mojkovac
• Learn about both Montenegro and Albania's unique histories on private city tours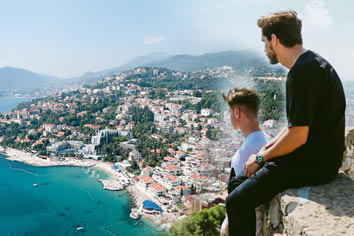 Day 1 - From Dubrovnik, Croatia to Kotor & Herceg Novi, Montenegro
Dobro Dosli! Welcome to Dubrovnik, Croatia! While some travellers will have just disembarked our Croatia Gay Dalmatia Cruise, others will have just arrived.
Around noon we'll gather for a short welcome meeting before boarding our 4-hour private transfer to Montenegro.
Our first stop will be the walled city of Kotor. The UNESCO-listed city was built by the Romans and later improved by Venetians.
After meandering the old town we'll continue along Kotor Bay before reaching Herceg Novi. Feel free to relax at the hotel or explore this Adriatic city before our official Welcome Dinner.
Hotel: Palmon Bay Hotel & Spa
, Herceg Novi, Montenegro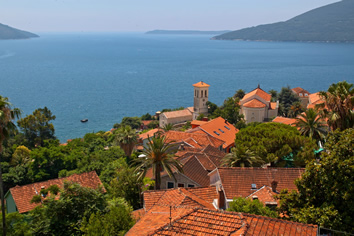 Day 2 - Herceg Novi, Montenegro
Good morning, Gentlemen! We have a big day ahead of us. After a hearty breakfast, we're off to Lovcen National Park.
Enroute we'll drive the famous serpentines road—25km/15.5mi of snaking road up the mountainside. At the national park's gate we'll continue on foot, slowly climbing to the Mausoleum of Njegus, aka Montenegro's most important ruler.
We'll take a few minutes here to enjoy the spectacular vantage of Kotor Bay and its surrounding villages. We'll catch our ride down, descending through quaint villages, stopping to taste local cheese and ham before arriving at the government-protected Skadar Lake.
To best enjoy this reserve, we'll cruise the bay aboard a private boat, stopping for an occasional dip in the crystal clear waters. Our day ends back in Herceg Novi where a fantastic local dinner awaits.
Ascent: 410m/1350ft
Descent: 410m/1350ft
Distance: 8.8km/5.5mi
Approximate hiking time: 3h, 30m
Hotel: Palmon Bay Hotel & Spa
, Herceg Novi, Montenegro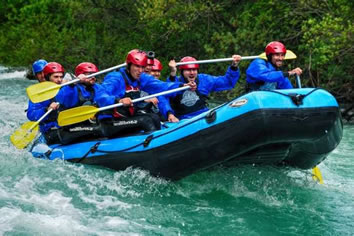 Day 3 - Tara, Montenegro
Another early morning awaits as we bid the Adriatic adieu and enjoy a scenic drive to the northern highlands.
It's in this hilly landscape we'll find Tara, one of Europe's deepest canyons. The natural wonder stretches 82km/51mi between the Bosnian, Herzegovinian and Montenegrin border.
After unpacking at our adorable log cabin, we'll gear up for an exhilarating white water rafting adventure—no experience necessary. Together we'll battle the canyon's waves and conquer her plentiful rapids.
Lunch awaits us back at our accommodation before an optional afternoon hike through thick, relatively untouched forest.
We'll conclude the day with a delicious Montenegrin dinner at the cabin.
Hotel: Blue River Lodge, Tara, Montenegro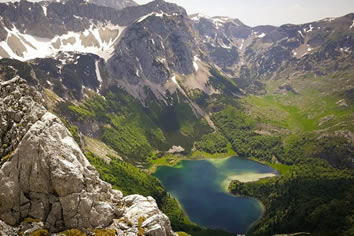 Day 4 - Zabljak, Montenegro
After rippin' and ridin' our way through Tara, you may be thankful for today's relatively calm itinerary.
Aboard our private transfer we'll navigate the beautiful albeit tricky terrain towards the village of Zabljak, often using man-made, WWII tunnels to bypass hills and mountains.
Along the way we'll stop in villages untouched by time, touring 'Katune' (small houses) and tasting local, regional cheese. Our local guide will also point out bakeries for a quick grab-and-go lunch.
Upon arrival we'll enjoy a rewarding hike around the Black Lake in Durmitor National Park, as well as stopping at lookout points and famous sites before arriving in our magnificently minimalist hotel.
A local dinner awaits us this evening.
Ascent: Minimal
Descent: Minimal
Distance: 3.5km/2.2mi
Approximate hiking time: 1hr, 30m
Hotel: Polar Star Hotel
, Zabljak, Montenegro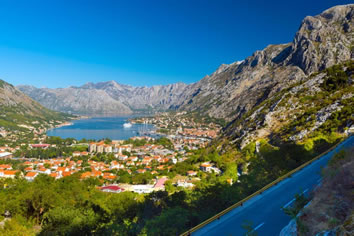 Day 5 - Mojkovac, Montenegro
Another day, another gorgeous national park!
Today we explore Biodradsko Jezero, famous for its glistening glacial lake. What's unique about the lake is its ability to literally double in size, depending on the weather.
After a short stroll and a few inevitable group photos, you'll have some free time for a refreshing swim (weather permitting). Afterwards we continue driving towards the mining town of Mojkovac with a quick lunch enroute.
Enjoy a free evening indulging in our resort and spa's many affordable treatments.
Later you can enjoy an evening on your own, or join the group for an optional dinner.
Hotel: Bianca Resort & Spa
, Mojkovac, Montenegro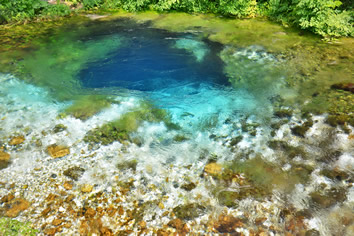 Day 6 - Theth, Albania
Today we'll follow the river Moraca towards Moraca Monastery, enjoying the canyon views along the way.
After a short stop at the monastery, we'll dive into the refreshing pools below Nijagari Waterfalls.
Finally we'll enter neighboring Albania and drive to our accommodation in the small village of Theth. After dropping off our luggage and grabbing a quick lunch, we'll drive a stone's throw south to begin the Blue Eye Lake hike.
Tonight you have the option of exploring Theth on your own or joining an optional group dinner.
Ascent: 135m/440ft
Descent: 135m/440ft
Distance: 2.25km
Approximate hiking time: 2hrs max
Hotel: Alpet Hotel
, Theth, Albania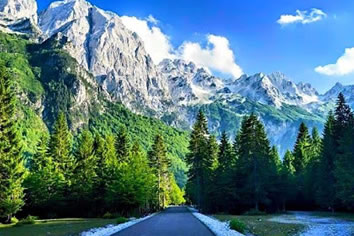 Day 7 - Valbona, Albania
Lace up your hiking boots and prepare for our most taxing (but extremely rewarding!) hike on tour.
After packing up our private transfer, we'll drive a short distance east to Valbona Valley. It's here we'll grab our day packs and embark on our stunning adventure.
You'll be mesmerized by the sweeping views, towering mountains, and the fairy tale Rrogam river. We'll enjoy an unforgettable picnic lunch from an ideal lookout point.
After a full day of hiking, we'll likely roll up to our accommodation tonight on the later side, which is why we've prearranged an easy included dinner.
Ascent: 1000m/3280ft
Descent: 1000m/3280ft
Distance: 13.9km/8.6mi
Approximate hiking time: 7hr
Hotel: Margjeka Hotel, Valbona, Albania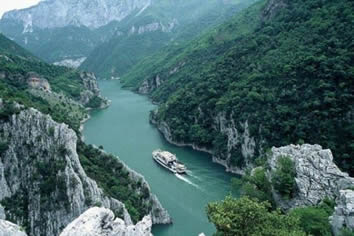 Day 8 - Tirana, Albania
This morning we'll enjoy an early breakfast before making the exciting journey to Tirana, Albania's up-and-coming capital.
But first we'll drive to Fierza where we'll catch a ferry to Koman. The boat ride can take three hours as it navigates through the narrow waters in between mountains and hills.
From Koman we'll continue by shuttle to Tirana. Upon arrival we'll enjoy a private tour of the city that only shook the dust of communism off in 1991.
Tonight we'll enjoy our final Farewell Dinner at a delicious Albanian restaurant.
Hotel: Sky Tower Hotel
, Tirana, Albania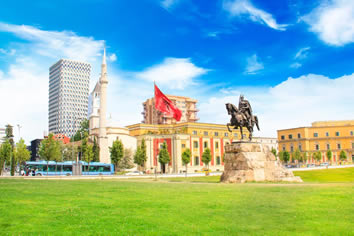 Day 9 - Tirana, Albania / Departure
As the final day of our tour, there are no activities planned.
Please check with your local guide to find out when to meet your included airport transfer.
Safe travels, and thank you for joining our gay Albania & Montenegro tour!