National Geographic Islander

Ship Facts
Ship's Registry: Ecuador
Passenger Capacity: 48
Length: 164 feet
Passenger Decks: 3

What's Included?
• Accommodations
• All meals indicated (B/L/D)
• Excursions
• Round-trip flight from Guayaquil to Galapagos
• Transfer to hotel and ship upon arrival and to hotel and airport upon departure
• Services of Olivia cruise director, Lindblad Expeditions' leader, naturalist staff, National Geographic photography, instructor, expert guides and the ship's doctor
• Use of kayaks, snorkeling gear and wetsuits
• Voyage DVD (one per household)
• Gratuities to ship's crew and naturalists
• Galapagos National Park entrance fee (subject to increase), which are covered in NDA fees
• Internal Ecuador flights (Guayaquil – San Cristobal – San Cristobal – Guayaquil)
• Gratuities to naturalists and ship's crew, port charges/taxes, which are covered in NDA fees
• Olivia assistance throughout
What's Not Included?
• Roundtrip airfare from Home country to Guayaquil
• Incidentals on board
• Wine and alcohol
• LEX Spa services
• Internet

Amazing Galapagos Adventure Cruise 2021
September 16 – 23, 2021
Lindblad Expedition's National Geographic Islander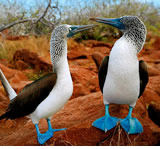 We're going back to the Galápagos with a once-in-a-lifetime chance to witness animals found nowhere else on the planet, with National Geographic/Lindblad Expeditions and 47 women of Olivia. From the moment you step onto these dazzling shores, you're confronted by giant tortoises basking in the sun, lava lizards darting between rocks, and frigates swooping overhead. Blue-footed boobies still perform their mating dances right under your nose and sea lions do figure eights as you snorkel past. You'll be able to snorkel nearly every day, sometimes twice a day. For those who prefer to stay dry, there's the service of our undersea specialist, who'll share undersea video footage with you during the cocktail hour. And each day you'll have the option to walk, hike, kayak, or zodiac cruise, and to join a different naturalist as you choose: there are no assigned groups.
See Galapagos as Darwin did—aboard an expedition ship equipped to give you the most engaging experience possible. Voyage from island to island to make fresh discoveries daily. Hike, kayak, and Zodiac cruise to and around intriguing islands. Explore the undersea. In the 40+ years we've been exploring here, we've introduced generations of guests to the magic and mystery of Galapagos.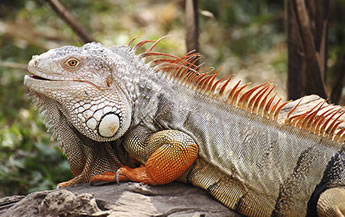 Like a floating safari camp, the ship will be your base for an unforgettable 10-day expedition—immersing you in a movable feast, a panoramic experience of the Galapagos Islands. The ship will feel like home in no time, as you discover all the nooks and crannies—and very welcoming, as the community camaraderie kindles. Crossing between islands most often takes place overnight to maximize time exploring. So you'll wake to fresh vistas outside your cabin window, and daily discoveries.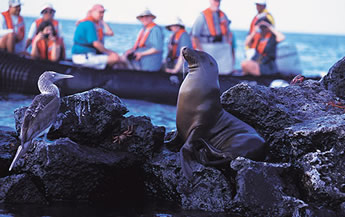 Walk, kayak, and snorkel. Head off on a scenic cruise aboard our Zodiac landing craft. Take a long hike or choose a short slower walk, with time for your naturalist to share the unique wonders of a particular island. Stay aboard and read if you prefer. Or enjoy a wellness treatment on our floating zone of serenity, or in a tranquil treatment room. There's no one-size-fits-all scheduling here: you can choose your activities, activity levels and staff members to join every day.
Our ship-based Galapagos wildlife travel lets you experience all the endless magic of Galápagos' diverse habitats: from lush green highlands to stark volcanic landscapes; pristine beaches to mangrove thickets; from arid terrain to black lava beaches adorned with emerald seagrasses.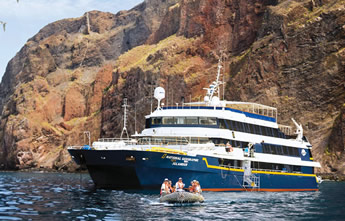 Your Ship - Lindblad Expeditions' National Geographic Islander
Lindblad's new expedition ship, the National Geographic ms Islander, will take you on the adventure of a lifetime. It is equipped with everything you need to explore the Galapagos archipelago. Zodiac landing craft will get you into those hard-to-reach places. Snorkeling gear and wetsuits let you explore the amazing underwater world and its inhabitants. An undersea specialist will be on board to answer all your questions. And, a video chronicler will be on hand to catch every moment of the journey.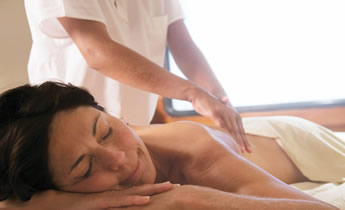 Let the onboard LEX Spa help you relax and rejuvenate, visit the e-mail station and send a note home or hang out at the lounge with friends. The lounge offers refreshments at the bar and facilities for viewing films, slide shows and lectures. If you're curious about any aspect of the archipelago, just ask our onboard naturalist or research it in the onboard library and then take your book outside to relax. The ship offers both a covered deck area as well as seating in the sunshine. There's also a gift shop with magazines and other treats. All meals are served in one seating in the restaurant, and the menu is delightfully international, with an Ecuadorian flair.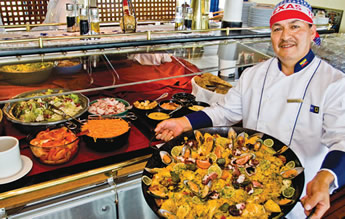 You'll find that time aboard is relaxing and enlightening—the perfect respite between activities ashore. You'll stroll beaches, hike among abundant wildlife, kayak, and explore the undersea all from your floating basecamp and then return for insightful presentations, fine dining, and warm hospitality.
National Geographic Islander's elegant dining room wraps around the stern with large windows and accommodates the entire expedition community in a single seating. You are free to dine with whom you like and independent travelers will find a warm welcome on board. Dress is always casual and the general ambiance is relaxed and informal.
Every meal is a delight and often a discovery—a window, so to speak, on the region you're exploring. All food served aboard is fresh, local, and delicious; sourced from suppliers that share our values of sustainability whenever possible, and often inflected with regional flavors.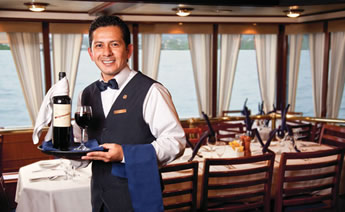 Breakfast is served buffet-style, with eggs and other dishes made to order. Enjoy freshly-baked pastries, and a bounty of fresh, tropical fruits and fresh-squeezed fruit juices. An early riser continental breakfast is also served each morning, and on warm tropical mornings, is often served on Islander's covered outdoor deck. Lunch is most often buffet, though occasionally served family style, and there is often an option of a light lunch served on deck. Dinners are plated and served in the dining room, except for the evening when an extravagant barbecue is held on Islander's open deck. Whether a meal is buffet-style or served, our gracious waitstaff is ever-present to attend to your every need.
During lunch and dinner your expedition leader, naturalists, and any guest speakers will join you for meals, and during breakfast they often sit together to plan the logistics of the exciting day ahead.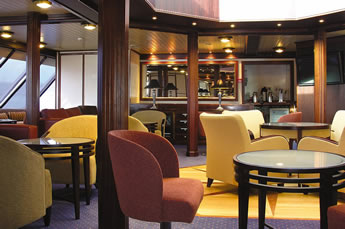 Islander's classically nautical interiors offer comfortable spaces to take in the scenery and relax after an active, but exhilarating, day ashore. You'll quickly know your way around, with the ship feeling like a friendly boutique hotel. With ample deck space and public rooms, however, you can choose to withdraw to a cozy corner by yourself or join others for an engaging conversation and refreshing drink.
You may come to consider the bridge another public room, as guests are encouraged to visit our officers whenever safe navigation permits. Learn about navigation from our officers, and share their enthusiasm for the extraordinary wildlife of Galapagos.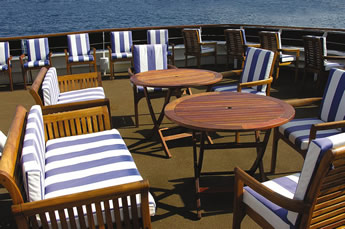 The lounge and bar are the main social hub of the ship, and where all the briefings, photography talks and guest speaker presentations take place. With sweeping windows over the stern and a skylight above, the room offers ample natural light and dramatic views.
The lounge is also the scene of convivial cocktail hour where you'll share your photos or stories with fellow guests. You'll gather here nightly for the Lindblad-National Geographic tradition of Recap where naturalists share stories and answer questions about the day's events. A variety of beverages are available for purchase including beer, cocktails, spirits, and wines by the glass or bottle. Sodas and juices are complimentary.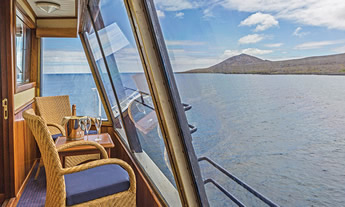 Comfortable armchairs line a side of the Islander's cozy library, and a dramatic wall of windows overlooks the sea. A limited collection of books includes fiction, regional guides, and reference books on Galapagos wildlife.
The pure wildness of Galápagos is naturally uplifting. Add to that a variety of spa treatments available aboard, and you'll find your expedition relaxing as well as revitalizing. Massages, body treatments, facials, and hand and foot treatments inspired by the natural beauty of Galapagos, are all available in the spa.
Our small but well-equipped fitness center contains a stationary bicycle, a step machine, a treadmill, hand weights and yoga mats. The wellness specialist offers morning stretches outside on the sundeck.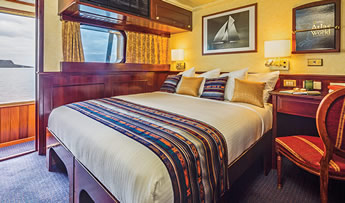 National Geographic Islander accommodates 48 guests in 24 cabins, including two suites. All accommodations have a window, and the eight cabins at the top of the ship have private, glassed-in terraces for exceptional views of the passing islands. All cabins have two single beds that can combine to create double- or queen-sized beds. Your preference is taken at booking.
Decorated in a rich, nautical design with bright work and mahogany trim, Islander's cabins are cozy and well-appointed. After a morning spent adventuring with sea lions or negotiating your way around hundreds of marine iguanas ashore, your meticulously made up cabin will be an inviting home away from home. Eight of Islander's cabins (categories 4 and 5) feature the comfort and extravagance of private terraces with seating. Perfect for early morning sunrise contemplations or a personal, daytime retreat, these coveted cabins are guest favorites. Our two spacious suites (category 5) feature a wraparound view forward over the bow and off to the side of the ship.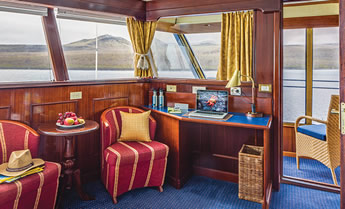 Every cabin offers Wi-Fi access, ample closet space, and has a small table and chair. They also feature individual climate control and private facilities. There is ample room under the bed for storing smaller pieces of luggage, and hair dryers are stored in every cabin. The small, but well laid out, bathrooms have botanically inspired hair products and shower gel.
A public address system will keep you updated throughout the day on all activities and any unexpected wildlife sightings. You'll also have the option of turning on, or off, the expedition leader's channel through the public address system. If selected, you'll be able to hear lectures in the lounge or any early morning wake-up calls in case of spectacular wildlife sightings.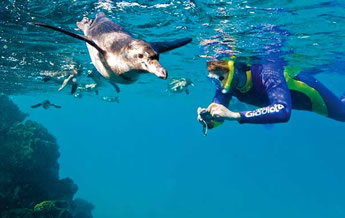 Amazing Galapagos Adventure Cruise Itinerary


Date

Port

Meals

16 Sep

Guayaquil, Ecuador
17 Sep
Guayaquil / San Cristobal / Galapagos

B, L, D

18 Sep

Bartolome / Santiago, Galapagos
B, L, D

18 Sep

Santa Cruz / Isabela, Galapagos
B, L, D
19 Sep
Fernandina, Galapagos
B, L, D

19 Sep

Floreana, Galapagos
B, L, D

20 Sep

Espanola, Galapagos
B, L, D
21 Sep
Genovesa, Galapagos
B, L, D

22 Sep

San Cristobal, Galapagos / Guayaquil
B
23 Sep
Guayaquil, Ecuador
B

Flights into Guayaquil can arrive any time on September 16, 2021 and hotel check-in begins at 3:00pm.


You can leave any time in the late evening of September 22 or on September 23, 2021.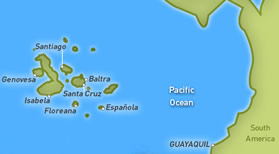 Guayaquil, Ecuador
Thursday, September 16, 2021

Most flights will depart U.S./Canada and arrive in Guayaquil by late evening. We've found that Miami is a convenient gateway for most, but other air alternatives are available. If you choose to take the non-stop American Airlines group flight from Miami, we depart in the early evening with a flying time of approximately 4 hours. You will spend the night at the Hotel del Parque Guayaquil
.
Guayaquil/Galapagos/Embark
Friday, September 17, 2021

This morning, fly to San Cristobal, Galápagos for embarkation. During lunch, we sail to an island for a magnificent introduction to the wildlife. Snorkel or walk the island's sandy shoreline looking for land iguanas, sea lions, and unusual birds.
Exploring the Galapagos Islands
Saturday - Tuesday, September 18 - 21, 2021
Although over the course of the week exact routing depends on the National Park Service, we may visit the following islands:
Espanola


The exclusive home to waved albatross (April - December) and particularly colorful marine iguanas, Espanola is also a paradise for Darwin's finches, sea lions galore, and the famous blue-footed boobies. Snorkel and stroll along the island's lovely beaches.
Floreana

Snorkel among sea lions in the clear waters off Champion Islet. We may also find flamingos, pintail ducks and various shorebirds. Hike to a pristine white-sand beach, a favorite nesting site for sea turtles, and then spend time looking for the endangered Floreana Mockingbird.
Isabela

Today you'll visit a successful breeding ground for tortoises run by the Galapagos National Park and the Charles Darwin Research Station. You'll have the opportunity to hike around the wetlands, home to many shore birds. This afternoon you may choose to visit the highland and hike to the rim of the Sierra Negra Volcano, one of the widest calderas in the world.
Dragon Hill and Guy Fawkes, Santa Cruz

Today you will hike over white sandy beaches to visit the last remaining population of Santa Cruz land iguanas at Dragon Hill. Keep on the lookout for shore birds and flamingos as you hike along a salt water lagoon. Then, you will have time to snorkel. During your zodiac ride to shore, you may be able to spot fur seals, blue-footed boobies, pelicans and sea lions. You'll spend time in the small town of Santa Rosa before traveling to Miguel Angel Arias' ranch. From the ranch, you'll hike into El Chato Preserve to find tortoises in the wild. Later, you'll have the opportunity to explore a lava tunnel.
Santiago

You will visit Sombrero Chino, a charming volcano named for its resemblance to a "chinese hat." You may take Zodiac rides, kayak or go ashore to admire the volcanic landscape, and snorkel in an area frequented by penguins, sea lions and small reef sharks. In the afternoon you'll view the famous Pinnacle Rock. You'll be able to distinguish the older reddish-brown lava from the younger black lava and identify many interesting features. You may have additional opportunities to swim and snorkel.
Genovesa

On Genovesa, you'll walk among swallow-tailed gulls, red-footed boobies and Nazca boobies and keep a look out for hunting short-eared owls. You'll ride Zodiacs, kayak along the caldera, and snorkel among large schools of parrot fish, possible hammerhead sharks and golden rays.
San Cristobal, Galapagos - Disembark/Guayaquil
Wednesday, September 22, 2021

Disembark in San Cristobal after breakfast and fly to Guayaquil. Transfer included to the hotel. The late afternoon and evening are free to explore the bustling city. Overnight at the Hotel del Parque Guayaquil
.
PLEASE NOTE: You can depart from Guayaquil on a late night flight today. A day room will be provided until your departure to the airport. A group transfer is included.
Guayaquil/Home
Thursday, September 23, 2021
Hotel check-out is 11 am. Enjoy a complimentary hotel shuttle to the airport for flights home or onto other adventures.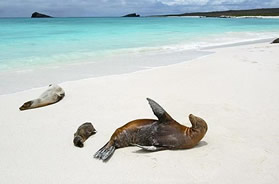 Traveler Info
Currency
$USD is accepted.
Languages
Spanish is the main language, but English is spoken widely.
Climate
September in the Galápagos is nearing the end of the dry season, and is one of the coolest months, staying between 69°-75°F (20°-24°C) during the day, and can go down to 64°F (18°C) at night. The water temperature averages about 70°F (21°C).
Travel documentation and identification
You will need a passport that is valid for six months past the date of the trip. If you are not a US citizen, please check with both your country's consulate and the consulates of the countries we will be visiting to make sure that you do not need an entry visa or other additional documentation.
Where to fly into/out of
You will need to fly into Guayaquil, Ecuador (GYE). Most flights arrive in the evening. We encourage all passengers to arrive a day early to avoid the stress of unexpected delays. Additional hotel nights at the Hotel del Parque Guayaquil
can be made. If you book a standard room, you will not have to change rooms when your program begins.
Suggested arrival/departure times
Flights into Guayaquil can arrive any time on September 16, 2021 and hotel check-in begins at 3 pm. You can leave any time in the late evening of September 22 (after 8 PM), or on September 23, 2021. A day room will be provided up until the time of departure for your late-night flight September 22. An overnight room will be provided if your flight departs September 23.
Please note if your flight departs late evening of September 23, you will need to checkout of your hotel room by noon that day. For this you may want to consider booking an additional night
directly with the hotel so you can keep your room up until your departure to the airport.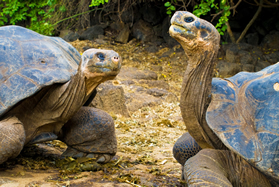 Luggage allowances
While there is no luggage limit on the cruise itself, airlines often restrict (or charge) for excess baggage. Because each airline is different, and the regulations change over time, please check with your airline for baggage allowances.
Transfers and Meeting up with Olivia
Flights into Guayaquil can arrive any time on September 16, 2021 and hotel check-in begins at 3 pm. You can leave any time in the late evening of September 22 or on September 23, 2021.
It is approximately 15-20 minutes from the airport to hotel in Guayaquil, depending on traffic. We will provide transfers from the airport to Hotel del Parque for guests arriving to Guayaquil on September 16. We will be collecting your arrival itineraries to organize these transfers. Otherwise, taxis are available for about $20 USD in Guayaquil.
Transfers from the hotel to the Guayaquil Airport, San Cristobal airport to ship, ship to San Cristobal Airport and Guayaquil airport to hotel are all included.
Check-In
Hotel check-in begins at 3:00pm on September 16, 2021.
Hotels
Our host hotel in Guayaquil is the Hotel del Parque Guayaquil
. Should you wish to arrive a day or two early or extend your stay, we recommend booking online
and request a Standard Room.
Getting to your ship
On September 17, you will be transferred in the early morning after breakfast from the hotel to the airport for your flight to San Cristobal in the Galapagos. Once we arrive in San Cristobal, a bus will transfer you a short distance to the dock. Panga boats will be waiting to transport us to the ship.
Location
Our port of embarkation is in San Cristobal. When we arrive into San Cristobal by plane, embarkation will begin immediately.
Check-in
We will board just before noon and will check-in on board when we arrive on September 17, 2021.
Flight Guidelines
Most flights arrive into Guayaquil in the late evening. If you arrive earlier, be aware that hotel check-in begins at 3:00pm. When we arrive into San Cristobal by plane, embarkation on the ship will begin immediately. Departures on September 22 should be after 8:00pm or any time on September 23, 2021.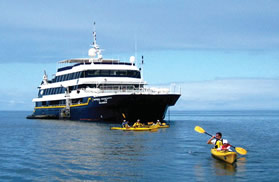 Dining
Open Seating Policy
Dining hours: Breakfast 7 – 8am, Lunch 12 - 1:30pm, Dinner 7 - 9pm
Restaurants
There is one restaurant on board. Meals are served buffet style for breakfast and lunch. Dinner is sit-down style with Ecuadorian flair.
Electricity
Ecuador and the Galapagos operate on US electrical current, 110 volts, 60 cycles.
Gratuities
Gratuities are included in the cost of your trip. Gratuities go to the naturalists, cabin stewards, dining room staff and other behind-the-scenes crew members.
Internet / e-mail / fax
Internet access is available on board. You can purchase cards in 30-minute increments.
Laundry and dry cleaning
There is no self-service laundry or ironing. The ship does offer laundry service and pressing.
Medical services
There is a doctor with a minimal medical center on board. Your first visit is complimentary.
Money: Paying for things on board
Upon embarkation, you will register a credit card to your shipboard account in order to charge drinks, services, etc. You will not be able to get cash advances through your credit card; however, you will be able to cash traveler's checks.
Phone
In Santa Cruz, you'll have the ability to phone home at reasonable rates. Satellite phones are available on board at costs of up to $12/minute.
Smoking policy
The ship is completely non-smoking except for the aft area of the exterior Upper Deck. Smoking is not permitted on the uninhabited islands.
Special Diets and Special Needs
If you have any medical, mobility needs, or specific dietary requirements, please advise us of this information as soon as possible but no less than 90 days prior to the trip.
Special Occasions
If you have a celebration or birthday that occurs during the trip dates that you have not already advised your travel consultant about, please let us know of this information as soon as possible but no less than 90 days prior to the trip.
Spa services
Standard spa treatments such as massage are available. Pricing will be available on board.
Disembarkation
We disembark at approximately 9:00am for our transfer to San Cristobal Airport. Exact flight times from San Cristobal to Guayaquil will be announced in your final documents, sent 3-4 weeks prior to the trip.