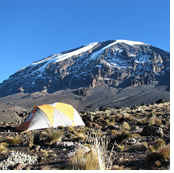 Challenge yourself on an all-gay hike to the summit of the world's tallest freestanding mountain. This gay adventure is one of our most ambitious, and reaches its literal peak in time to watch the sun rise over the African plains below. On the climb, we'll take the lesser travelled, but exceedingly spectacular, Lemosho Route, which also gives your body more time to acclimatize (and results in a higher summit success rate). Starting in dense rainforest, we'll encounter six different ecological zones en route to our summit, followed by a two-day descent. As a group, we'll take it step-by-step, supporting and encouraging each other the entire way.
To treat yourself after this tour, consider joining our Tanzania Gay Serengeti Safari Tour which kicks off just as this tour concludes.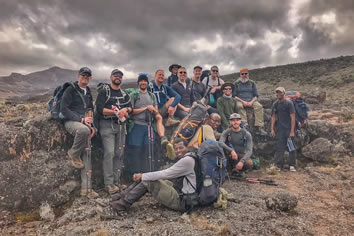 • Climb Mount Kilimanjaro via the scenic Lemosho Route
• Be led by the most experienced guides and a top-notch crew
• Experience sunrise from 5,895m/19,340f on one of the "Seven Summits" of the world
• Devour three hot meals per day while trekking, with plenty of fresh fruits and vegetables to keep you fuelled
• Enjoy unbelievable camaraderie that leads to one of the highest summit success rates in the industry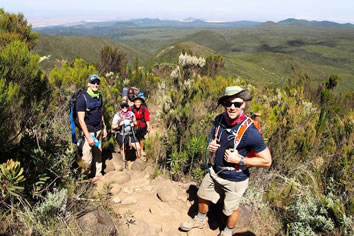 Day 1 - Arusha, Tanzania
Jambo! Welcome to Tanzania.
Our trip begins with a group meeting at 4PM.
Get to know your fellow travellers and Chief Mountain Guide while we discuss the epic climb ahead.
We'll then enjoy a welcome dinner at the hotel.
Accommodation: Rivertrees Country Inn
, Arusha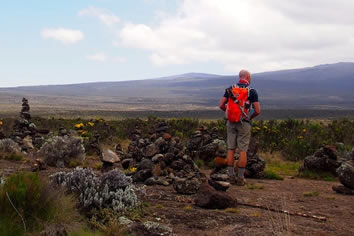 Day 2 - Big Tree Camp
Following an early breakfast, we'll have a 2-hour transfer to Londorossi Gate for registration, which could take a few hours.
Then on to the Lemosho starting point (2,424m/7,952ft) where we'll start our trek to the Big Tree Camp (2,785m/9,135ft) for our first night on the mountain.
We may spot antelope unique to the Lemosho and Rongai routes, so keep your eyes peeled.
Ascent: 400m/1,300ft
Descent: minimal
Distance: 5km/3mi
Approximate hiking time: 3-4 hours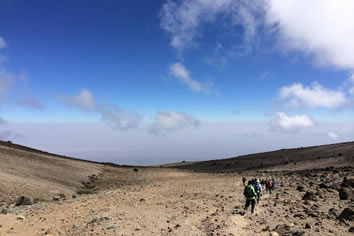 Day 3 - Shira 1 Camp
Rise and shine!
After breakfast, we trek for about an hour to the end of the forest. Here, the trail steepens and we enter the giant heather moorland zone, crossing several streams en route.
We continue to Shira 1 Camp (3,504m/11,496ft), on the western edge of the Shira Plateau, where lunch awaits and we'll camp for the night.
This afternoon, there will be an optional acclimatization ascent of Shira Ridge, which serves up the finest views of Kibo, one of Kilimanjaro's three volcanic cones.
Ascent: 720m/2,360ft
Descent: minimal
Distance: 8.4km/5.2mi
Approximate hiking time: 5-6 hours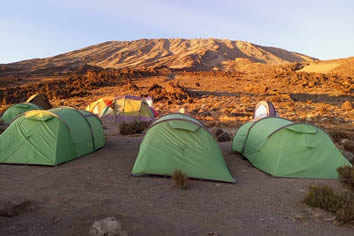 Day 4 - Moir Hut
Today we trek across the Shira Plateau to Moir Hut (4,166m/13,700ft), where we'll break for lunch.
Onwards and upwards, weather permitting, you have the option of a breathtaking sunset acclimatisation climb just before dinner (4,305m/14,125ft).
Ascent: 657m/2,155ft
Descent: minimal
Distance: 9.7 km/6mi
Approximate hiking time: 3-4 hours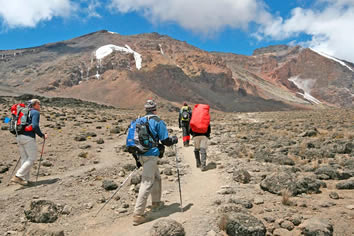 Day 5 - Third Cave Campsite
We've got a 17km/10.5mi trek ahead of us today, moving clockwise around the mountain's northern slopes via Pofu (4,040m/13,250ft), to Third Caves Camp (3,971m/13,000ft).
Along the way we'll enjoy impressive views to the Northwest, North, and Northeast.
While the day may be long, we'll take it slow and steady enjoying the countless lookouts.
Ascent: 247m/810ft
Descent: 466m/1530ft
Distance: 17km/10.5mi
Approximate hiking time: 6-7 hours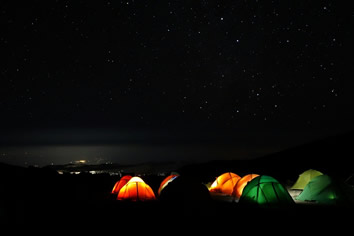 Day 6 - School Huts
Today we trek upwards to School Hut (4,722m/15,500ft).
While the journey is a 'mere' 4.9km/3mi, we'll gain 780m/2,560ft in altitude.
Dinner will be served early, as we're off to sleep at 6PM.
'Tomorrow' begins with an 11PM-12AM wake-up call for our final midnight assault. Porridge and tea will be served to help get us going.
Ascent: 780m/2,560ft
Descent: minimal
Distance: 4.9km/3mi
Approximate hiking time: 3-4 hours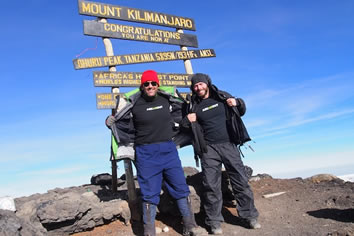 Day 7 - Uhuru Peak & Millennium Camp
While it actually begins in the middle of the night, this is the day we've been waiting for.
We'll trek to Gilman's Point (5,708m/18,700ft) in the dark, on switchback trails, where we'll pause to enjoy the majesty of the sun rising above the clouds.
We'll then work our way around the crater to Stella Point (5,756m/18,885ft), before reaching our final summit: Uhuru Peak (5,895m/19,340ft).
After realizing you've just climbed Kilimanjaro, feel free to shed a few tears, snap some photos, and bask in the well-deserved glory with your fellow climbers.
This is an incredibly long and difficult day, so we may only make it to Millenium Camp.
Ascent: 1,181m/3,875ft
Descent: 2,789m/9,150ft
Distance: 15km/9.3mi
Approximate hiking time: 12-14 hours (4-6 hours to the summit rim, 1-2 hours to reach the summit, 2-3 hours descending from the summit to Barafu Huts with a 1 hour rest, then 2 hours to Millennium Camp).
Day 8 - Mweka Gate
This morning we continue our descent to Mweka Gate (1,633m/5400ft), where we'll sign the summit register to make it official.
A vehicle will be waiting to take us to a local restaurant for a casual burger and beer before heading back to our hotel where we can freshen up – in real showers – before our Farewell Dinner.
Ascent: minimal
Descent: 1,473m/4,832ft
Distance: 9.1km/5.7mi
Approximate hiking time: 8- 10 hours
Accommodation: Rivertrees Country Inn
, Arusha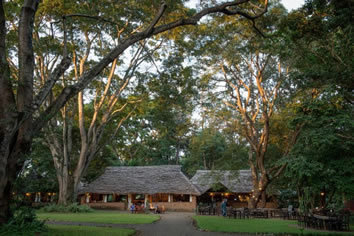 Day 9 - Departure
There are no activities planned today, so you are free to depart at your leisure.
Your trip includes a complimentary departure transfer which will be confirmed by your group leader.
If you are joining our Tanzania Gay Serengeti Safari Tour, rest easy and enjoy a free day before you start searching for The Big Five tomorrow. Please ask about booking an extra night of accommodation for tonight.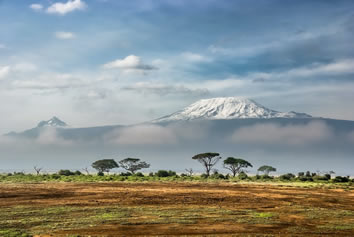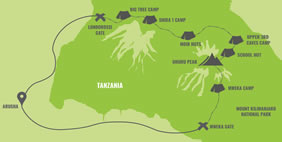 • Local Guide, Porters, Support Staff, and Out Adventures Host from beginning to end of tour
• Arrival & departure transfers to/from Out Adventures' joining/finishing point hotel
• Breakfast daily, 7 Lunches, 8 Dinners
• All activities and entry fees and mentioned in the itinerary
• All transportation as part of the organized itinerary in private air-conditioned vehicles with bottled water
• Gratuities for drivers and included meals
• A $50 USD Rainbow Railroad donation to help resettle LGBTQ+ refugees.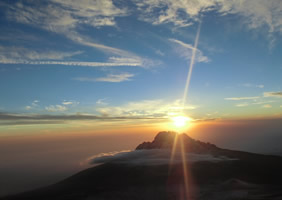 • International airfare
• Some required equipment and gear. Please see the "what to bring" list.
• Optional activities, meals, and drinks (including alcohol and water at included meals) not outlined in itinerary
• Extra night of accommodation if joining the Tanzania Gay Serengeti Safari
• Gratuities for local guide, porters, and support staff (approximately $250-$300 USD)
• Entry visa & Covid-19 testing fees
• Travel insurance (medical & repatriation coverage is mandatory for all travellers.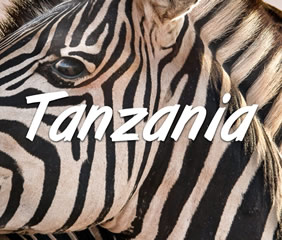 Visas
All visas are the responsibility of the traveller, and should be arranged in advance of arriving to Kilimanjaro International Airport. Although visas can be arranged upon arrival, we recommend making arrangements in advance to avoid possible delays or problems.
Culture Shock
Tourism in Tanzania is somewhat developed, but you can expect to see extreme poverty, and service levels may not be what you're used to.
Local LGBT Scene
Long story short, homosexuality is illegal in Tanzania. While locals in the tourism industry are more accepting, complete discretion is advised (even heterosexual public displays of affection are frowned upon on the Muslim coast and in Zanzibar). That said, your crew and staff with Out Adventures are all very welcoming.
Weather
January is typically dry, though there is potential for snow near the summit of Mount Kilimanjaro. Temperatures in Arusha hover around 25C/77F, but will drop roughly 6.5C for every 1,000m we ascend. The averages are 9C/48F at 3,150m/10,300f, 2C/25F at 4,500m/15,00f, and -6C/20F (-13C/8F with wind-chill) at the summit.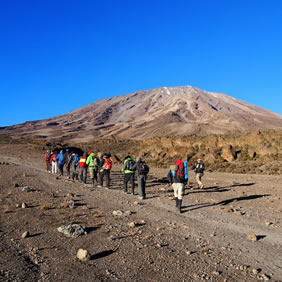 COVID-19 Vaccination Requirements
Out Adventures requires proof of full Covid-19 vaccination from all guests, following recommendations by the World Health Organization and the Centers for Disease Control and Prevention.
Required Vaccinations
Based on entry requirements, there are no other vaccinations needed for entry unless you are travelling from a Yellow Fever Zone (in which case you will be required to provide proof of Yellow Fever vaccination). To determine if you should take preventative measures to reduce the risk of illness, consult your doctor or a travel medical clinic, as we cannot provide vaccination recommendations.
Electricity
You will need an international travel plug/adapter for type D and G sockets. While on the mountain, you'll need to provide your own charging device for any electronics you plan to use.
Connectivity
All hotels, lodges and camps will have Wi-Fi (though possibly spotty). Feel free to tweet, pin, post and share your experience with friends and family at home!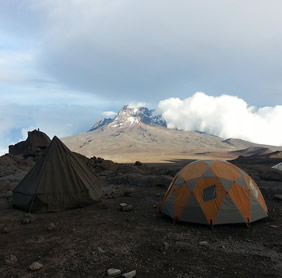 Camping
We will spend seven nights camping while we climb Mount Kilimanjaro. You will be provided with a tent and sleeping mat, and accommodation is based on a twin-share basis unless you purchase a tent-only single supplement. Breakfast and dinner will be served in a group tent, with lunches generally served on the trail unless poor weather forces the crew to set up the dining tent. Simple, tented toilets will be available, and you will be given a small wash basin with warm water daily so you can wash up.
Altitude Sickness
Altitude sickness and oxygen deprivation may be felt while travelling in high altitudes. Symptoms include shortness of breath, headaches, general lethargy, and a reduced appetite. It's important that you drink plenty of water, and not overexert yourself.
A comprehensive first-aid kit is carried by our support crew during treks, and senior staff are trained to prevent, detect and – if necessary – deal with AMS (Acute Mountain Sickness). Contrary to what many say, AMS is not that common, at least not on well-paced treks. You should consult your primary physician prior to embarking on this trip to ensure you are prepared with any recommended supplements or medications.
If you have recovered from Covid-19, you should discuss this trip with your physician prior to booking, and you should ensure that you are capable of hiking and sleeping at high altitude well in advance of beginning the tour.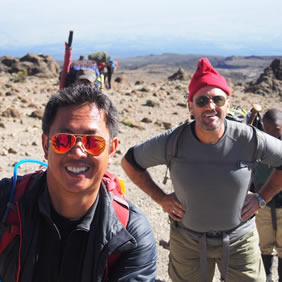 PLEASE NOTE: There have been cases where climbers are unable to summit, due to severe altitude sickness or personal reasons. In such a situation you must turn back and descend, temporarily or otherwise, with the assistance of a guide. If you are unable to continue the climb, you'll be taken to your original joining-point hotel, or a medical facility if necessary. All costs will be at your expense, and we strongly recommend contacting your travel insurance provider as soon as possible to start your claim and seek guidance in terms of expenses.
Travel Insurance
For everybody's peace of mind, medical travel insurance is required on our tour. At a minimum, your travel insurance must provide cover against personal accident, death, medical expenses, emergency repatriation and personal liability, with a minimum medical coverage of US $200,000.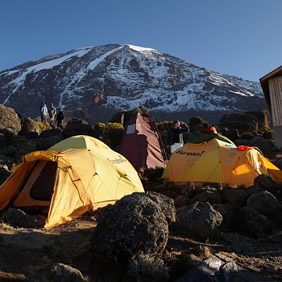 Your guide
Our adventures are led by a gay (or gay-welcoming) guide. Whenever possible, we hire destination locals. And we can also connect you with the right people if you'd like to delve deeper into the local culture. If you're happy with your service, we recommend tipping about $250 – 300 USD total for your local guide, porters and trek support staff. They'll certainly appreciate it!
Fellow adventurers
Out adventures are a great way to meet people from around the world and all walks of life. Bear in mind that everybody's there for a good time, so mutual respect will go a long way. Please be on time for any meet ups, empathetic to the needs of others, and ready to roll with whatever the adventure brings.
Although we can't tell you who your fellow travellers will be for privacy reasons, we can tell you many great friendships began with an Out Adventure.
Flying Solo
If you've never travelled on your own, it's an amazing way to get to know yourself while making new friends along the way. We can arrange for you to share a room with people in your age range at no charge, or you can pay a supplement for your own room. If there's an odd number of solos, we'll rotate a single room on a random basis.
Optional activities
Every Out Adventure offers optional excursions that are not included in price of this trip. Please see the daily itinerary in your final pre-trip packet to learn what's available.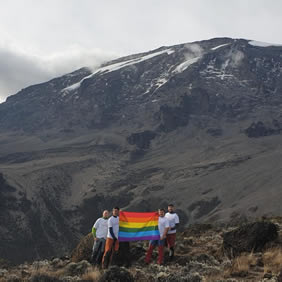 Meals
The tour includes breakfast daily, 7 lunches and 8 dinners.
Money
The local currency is the Tanzanian Shilling (TZS). We recommend carrying a few small bills for small purchases and souvenirs. Credit cards are accepted by the hotels and some safari camps, but there may be surcharges. We also recommend carrying about $400 USD in case of an emergency, or if your credit/ATM cards are placed on hold.
Tipping
If you're pleased with the service throughout your trip, a tip is recommended. Details will be provided in your final trip documentation, but we recommend budgeting about $250 – 300 USD for your local guide, porters and trek support staff.
What to bring
Please keep your baggage under 20kg/44lb to avoid costly surcharges on domestic flights. You should also bring something smaller to carry a water bottle, your camera and souvenirs on day trips. We will provide packing list as a guideline, not gospel, but we are happy to answer any specific questions about how much (or little) to bring.