Croatia & Dalmatian Coast Deluxe Gay Cruise 2021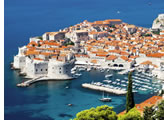 A unique small ship gay cruise on the lavishly designed brand new deluxe MV Avangard. Cruise along the charming Croatian coastline and islands from Split to Dubrovnik and back, including exciting sightseeing experiences and visits to the Mljet National Park, Hvar, Dubrovnik, Korcula, Brac, and more. Indulge all your senses, explore inspiring destinations, fishermen's villages and small and cosy restaurants on shore for tasting local Mediterranean cuisine and nightlife.
With only 36 passengers on board, this is a relaxing gay cruise experience within a very friendly atmosphere. Intention of this cruise is to show beauty of Croatia islands and thousand year old cities and their rich history, to present Croatian lifestyle and heritage.
During this amazing gay cruise you will have the opportunity to visit the various gay and nudist beaches of the beautiful islands.

Croatia & Dalmatian Coast Deluxe Gay Cruise 2021
August 14 - 21, 2021
Bliss Halloween Mexican Riviera All-Gay Cruise 2021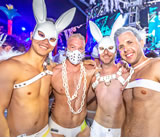 Take Halloween out to sea in 2021 with our biggest West Coast gay cruise yet! Atlantis celebrates 30 years of all-gay vacations with our first-ever sailing on the spectacular Norwegian Bliss from Los Angeles to Mexico's most beautiful beaches and gay-friendly destinations. Start your week with Atlantis' originally wild take on Halloween, kicking off a non-stop festival of dazzling entertainers, spectacular parties, and endless fun for 4000 guys from around the world.
Remember the carefree joys of dancing with friends, exploring a new place, reveling in a new adventure, and dressing up, down or silly? When Atlantis does Halloween, we'll bring it together with a mix of dazzling thrills and zany fun. All followed by a week of pure bliss where superstar talent takes center stage, world-class DJs inspire, parties sizzle into the morning, and we all get to see the world again.

Bliss Halloween Mexican Riviera All-Gay Cruise 2021
October 31 - November 07, 2021
Vacaya Southern Caribbean All-Gay Cruise 2022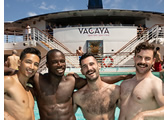 An All-New all-gay Caribbean adventure from VACAYA! We've got a never-before-offered adventure waiting for you and the LGBT+ community! Sailing 7 nights from convenient gay friendly Fort Lauderdale on the beautiful and fully-revolutionized Celebrity Millennium, we're taking you deeeeeeep into the Southern Caribbean to explore two of the most idyllic islands in the world – Aruba and Curaçao! There's no way to get to these islands in 7 nights on a standard cruise. Only VACAYA can take you there. And with this cruise sailing over the Martin Luther King, Jr. Holiday Weekend, it's the perfect way for US-based travelers to maximize vacation time!
And you'll be dazzled by our star-studded onboard entertainment, which has been called out in the press as "VACAYA's best kept secret!"

Vacaya Southern Caribbean All-Gay Cruise 2022
January 10 - 17, 2022
Dreams of Tahiti All-Gay Cruise 2021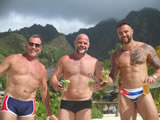 Discover Paradise! Join 145 other guests for exclusive all gay cruise in the Society islands of Tahiti. We are customizing this Polynesian adventure to give you the freedom to visit the hidden wonders of Tahiti. Whether exploring lush rainforests, witnessing striking volcanic peaks, or enjoying lunch on a private atoll, you'll enjoy everything Tahiti has to offer from the luxury of your own sailing ship, Msy Wind Spirit. Tall ship sailing is a postcard-perfect way to experience this South Pacific dreamscape.
Named after the Royal Explorer Society, the Society Islands archipelago includes the most famous Polynesian islands. Tahiti and Bora Bora welcome you with an open mind and picture-perfect scenery.

Dreams of Tahiti All-Gay Cruise 2021
September 16 - 23, 2021
Antarctica Solar Eclipse Luxe Gay Adventure Cruise 2021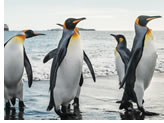 Experience a Wondrous Cosmic Event on the 7th Continent! As if Antarctica wasn't special enough, on this unforgettable luxury gay group expedition you'll experience the magic of a rare Total Solar Eclipse. The extraordinary Eclipse, set for December 4, 2021, will be like no other – as it will only be seen in Antarctica, turning an already-awe-inspiring Antarctic expedition cruise into a mind-blowing, truly once-in-a-lifetime experience.
Get up close and personal with the prolific seabirds, seals and whales of the Antarctic Peninsula and the South Shetland Islands. These long days of austral summer give you ample time to gear up and kayak or paddleboard these glass-like waters as they reflect the ice-blue sky back at you. And raise a glass as you become an honorary "Red Nose," a sobriquet for the rare few who have crossed the Antarctic Circle.
The words you have heard to describe this vast continent aren't enough. Antarctica is an experience. Only those who have been, and dared to take the icy-plunge into these remote waters can add their names to a century of exploration where few have gone.

Antarctica Solar Eclipse Luxe Gay Adventure Cruise 2021
November 28 - December 10, 2021
TropOut Thailand Phuket Gay Resort Holidays 2022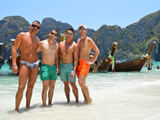 Get Wet in Phuket! TropOut – the festival for the modern gay traveller – in 2022 is heading back to Phuket, Thailand bigger and even better! So much more than a traditional 'resort holiday', TropOut gay resort week is filled with opportunities to Chill, Party & Explore in a tropical paradise with guys from all over the globe in stylish settings. Come join us in tropical Phuket and experience it all!
The Festival Schedule has been designed to give you flexibility: you can join as many or as few parties and activities as you like. If you'd prefer to chill be the pool for the week, that's absolutely fine- it's your TropOut to experience your way.
Coinciding with the Thai New Year – Songkran – this will be epic. It's a chance to meet old friends and make new ones. All in the unique community vibe that is TropOut. This is the ultimate week of party, relaxation and discovery in the unmistakable TropOut style.

TropOut Thailand Phuket Gay Resort Holidays 2022
April 10 - 17, 2022