Croatia & Dalmatian Coast Deluxe Gay Cruise 2020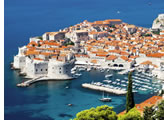 A unique small ship gay cruise on the lavishly designed brand new deluxe MV Avangard. Cruise along the charming Croatian coastline and islands from Split to Dubrovnik and back, including exciting sightseeing experiences and visits to the Mljet National Park, Hvar, Dubrovnik, Korcula, Brac, and more. Indulge all your senses, explore inspiring destinations, fishermen's villages and small and cosy restaurants on shore for tasting local Mediterranean cuisine and nightlife.
With only 36 passengers on board, this is a relaxing gay cruise experience within a very friendly atmosphere. Intention of this cruise is to show beauty of Croatia islands and thousand year old cities and their rich history, to present Croatian lifestyle and heritage.
During this amazing gay cruise you will have the opportunity to visit the various gay and nudist beaches of the beautiful islands.

Croatia & Dalmatian Coast Deluxe Gay Cruise 2020
August 15 - 22, 2020
Amsterdam To Barcelona Europe All-Gay Cruise 2020

Summer's hotter than ever in 2020 with an all-new all-gay cruise between Europe's two gay capitals – Amsterdam and Barcelona – for an incomparable journey to the most fascinating cities in Spain, Portugal, and France. From lush vineyards of Bordeaux to amber streets of Seville to powder-white beaches of Malaga, you'll experience something remarkable every day. There's even an overnight in seductive Lisbon! All during the best season to sail, where summer sunshine and warm waters grace every amazing destination. Featuring thrilling new entertainment, spectacular outdoor parties, and 2400 great friends from around the world.

A cruise holiday makes it easy to do it all, since virtually everything is included – superb accommodations, world-class dining, stellar entertainment, fascinating enrichment activities, endless nightlife, and so much more. Each day is an extraordinary new adventure filled with opportunity.

Amsterdam To Barcelona Europe All-Gay Cruise 2020
July 12 - 22, 2020
New Zealand & Australia All-Gay Cruise 2020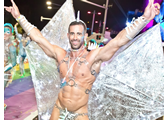 There's never been a better time to head "down under" than with Atlantis when we return to Australia and New Zealand for a spectacular all-gay cruise kicking off with Auckland Pride and arrives just in time for Sydney's legendary Gay and Lesbian Mardi Gras.
From the awe-inspiring natural wonders of New Zealand to stunning Sydney, you'll experience unparalleled wonders through two fascinating countries. Onboard, we'll thrill you with two continents of entertainment, spectacular outdoor parties, and expert guides throughout your journey. All at the lowest fares we've ever offered in Australia!
New Zealand welcomes you in the vibrant harbor city of Auckland, a remarkable city boasting the country's largest gay population. This stunning, cosmopolitan destination makes the perfect start for an all-gay cruise as we head south to explore.

New Zealand & Sydney Mardi Gras All-Gay Cruise 2020
February 14 - 26, 2020
Dreams of Tahiti All-Gay Cruise 2020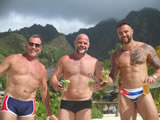 Discover Paradise! Join 145 other guests for exclusive all gay cruise in the Society islands of Tahiti. We are customizing this Polynesian adventure to give you the freedom to visit the hidden wonders of Tahiti. Whether exploring lush rainforests, witnessing striking volcanic peaks, or enjoying lunch on a private atoll, you'll enjoy everything Tahiti has to offer from the luxury of your own sailing ship, Msy Wind Spirit. Tall ship sailing is a postcard-perfect way to experience this South Pacific dreamscape.
Named after the Royal Explorer Society, the Society Islands archipelago includes the most famous Polynesian islands. Tahiti and Bora Bora welcome you with an open mind and picture-perfect scenery.

Dreams of Tahiti All-Gay Cruise 2020
October 8 - 15, 2020
Antarctica Voyage Luxury Gay Cruise 2021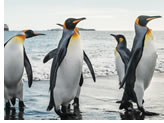 An unforgettable luxury polar expedition cruise. Due to popular demand, Adonis Gay Holiday & Source Events are excited to announce our 2nd Antarctica Luxury Gay Cruise Voyage. This time we'll be sailing aboard Ponant's Le Lyrial ship from January 30 to February 9, 2021. You'll be joining a group of gay travelers and friends on a luxury polar expedition cruise to the heart of the icy realm that is the Antarctica Peninsula. Embark on an unforgettable 11-day voyage and succumb to the enchantment of the breathtaking landscapes inhabited by astonishing wildlife.
No place on Earth compares to this vast while wilderness of elemental forces: snow, ice, water, and rock. Antarctica is simply stunning, with it's surreal remoteness, enormous ice shelves and mountain ranges, and some of the world's most extraordinary species.
Discover the unique concept of Ponant polar expedition cruises: explore the world's extreme regions while enjoying luxurious comfort and service. To let our minds soar in a place nearly free of humankind's imprint: This is magic!

Antarctica Voyage Luxury Gay Cruise 2021
January 30 - February 9, 2021
TropOut Thailand Phuket Gay Resort Holidays 2020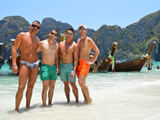 Get Wet in Phuket! TropOut – the festival for the modern gay traveller – in 2020 is heading back to Phuket, Thailand bigger and even better! So much more than a traditional 'resort holiday', TropOut gay resort week is filled with opportunities to Chill, Party & Explore in a tropical paradise with guys from all over the globe in stylish settings. Come join us in tropical Phuket and experience it all!
The Festival Schedule has been designed to give you flexibility: you can join as many or as few parties and activities as you like. If you'd prefer to chill be the pool for the week, that's absolutely fine- it's your TropOut to experience your way.
Coinciding with the Thai New Year – Songkran – this will be epic. It's a chance to meet old friends and make new ones. All in the unique community vibe that is TropOut. This is the ultimate week of party, relaxation and discovery in the unmistakable TropOut style.

TropOut Thailand Phuket Gay Resort Holidays 2020
April 11 - 18, 2020